Botanical Name: Pimpinella anisum.
Other Common Names: Aniseed, anason, anis, anasur, anisu, sweet cumin, star anise, Chinese anise.
Habitat: It is native to the Mediterranean area, but nowadays also grows in wide areas of Asia, the Southwestern USA, and Mexico.
Plant Description: Anise is an annual herb from the family of Umbelliferae, the family of plants like carrot, fennel, and parsnip.
It has light green colored leafs and small white flowers. The plant requires a warm climate with a long frost-free period.
NB: Chinese star anise (Illicium verum) is a plant native to China which's seeds are also widely used in traditional medicine and cooking.
Star anise has very similar ingredients and medicinal properties as Anise. Both plants should not be confused with the poisonous Japanese star anise (Illicium lanceolatum).
Plant Parts Used: The seeds.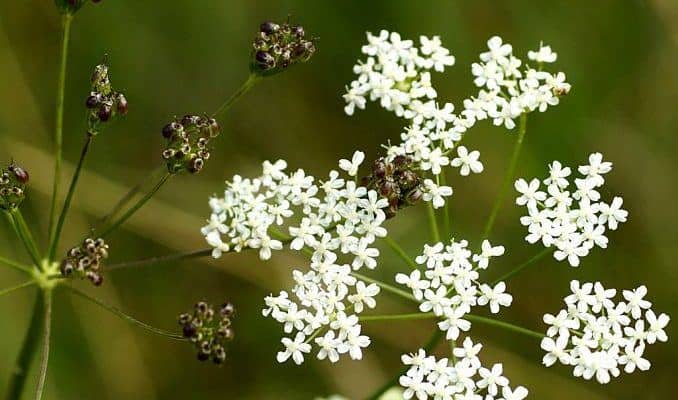 Therapeutic Uses, Benefits and Claims of Anise
The anise seeds have been used since ancient times for their content of aromatic essential oil in traditional medicine, for cosmetics, alcoholic beverages like anisette, arrack, ouzo and raki, and in cooking.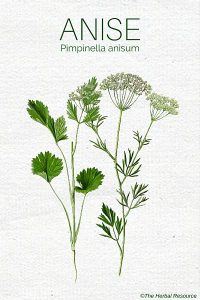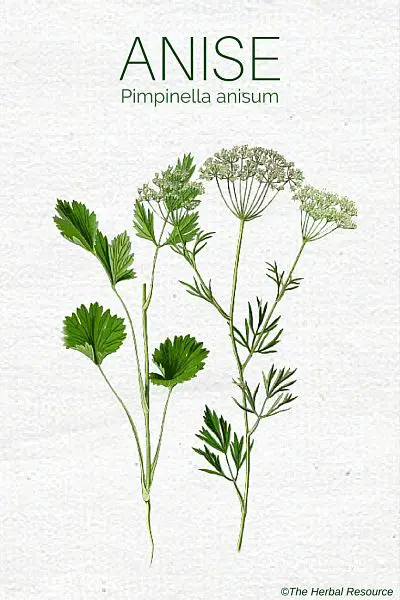 The ripe seeds contain about 2.5% of fragrant oil that is responsible for most of the beneficial effect associated with them.
The oil consists mostly of antheole and its derivatives, like diantheole and photoantheole. Methylchavicol and para-methoxyphenylacetone, flavonoids like quercetin, and coumarins are also present.
The oil which is produced from the crushed seeds by steam distillation is valuable in perfumes and soaps and has also been used in toothpaste, mouthwashes, and skin creams.
When taken internally the seeds have been used to relief indigestion, colic, gas, halitosis, bloating, abdominal cramps and to remove nausea.
The seeds have mild diuretic (increase urine output) and diaphoretic (increased sweating) properties and they have also been used for their antiseptic effects
Anise oil works as an expectorant, which means it helps in the coughing up of mucus in conditions like asthma, bronchitis, the common cold, and the whooping cough. It is therefore being used as an ingredient in cough syrups and lozenges.
The seeds also have mild estrogenic effects most likely due to the presence of diantheole and photoantheole in the oil. This is why the seeds have been used traditionally to promote lactation in nursing mothers, increase libido and to relief symptoms of premenstrual syndrome.
Ointments and soap containing anise oil can help as a natural remedy for oily skin and to treat impurities like mild acne.
Since the oil is poisonous for many insects, ointments containing anise oil has also be used as a natural treatment for scabies and lice infestations.
Dosage and Administration:
As an infusion: First one or two teaspoons of anise seeds should be crushed to release the volatile oils then the crushed seeds should stand for five to ten minutes in one cup of boiling water. Many herbalists recommend one cup three times daily.
As an oil: A popular choice is one drop of the anise seed taken internally mixed with half a teaspoonful of honey.
Potential Side Effects of Anise
Anise oil is not without side effects, as large quantities used internally can cause nausea and vomiting, seizures and even pulmonary edema. This is why the pure oil should not be used internally as pulmonary edema has occurred after ingestion of such a small quantity as 1-5ml pure anise oil.
Using seeds internally is safe as they do not contain more than 2.5% oil. Used externally, pure oil can cause skin irritations, therefore the oil is formulated with other emollients to form an ointment in which the oil is sufficiently diluted to be safe.
As with all natural products allergies can also develop which can potentially be life-threatening. Skin rashes, swelling of skin or tongue, difficulty breathing, and/or tightness in the chest could indicate an allergic reaction in which case a doctor should be consulted immediately.
Anise should not be used during pregnancy and a health care provider should be consulted before the use by nursing mothers.
Supporting References
Balch, Phyllis A.: Prescription for Herbal Healing. New York. Avery 2002.
Peirce, Andrea: The American Pharmaceutical Association Practical Guide to Natural Healing. New York. William Morrow and Company, Inc. 1999.
Lawless, Julia: The Illustrated Encyclopedia of Essential Oils. Shaftesbury, England. Element Books 1995.
Geelhoed, Glenn & Jean Barilla: Natural Health Secrets From Around the World. New Canaan, Connecticut. Keats Publishing, Inc. 1997.
Duke, James A.: The Green Pharmacy Herbal Handbook. Emmaus, Pennsylvania. Rodale / Reach 2000.