Botanical Name: Arnica montana.
Other Common Names: Leopard's bane, common arnica, mountain arnica, mountain daisy, wolfsbane, mountain tobacco, fleurs d'arnica (French), almindelig guldblomme (Danish), slåttergubbe (Swedish), Arnika (German).
Habitat: Arnica is found around the world in subarctic zones. It is found from Europe to Siberia, in the Pyrenees, and throughout Canada and northern sections of the United States.
Plant Description: The arnica grows a rosette of leaves which may reach 5-8 cm in length. The flowers are yellow or orange, with approximately 11 petals arranged the central flower.
Plant Part Used: All parts of the plant is used in herbal medicine (leaves, root, flowers).
The flowers are collected as soon as the plant blooms and the roots (rhizomes) are dug up in the fall when the plant has withered. The flowers are dried at 40-45 ° C and the roots at 70 ° C.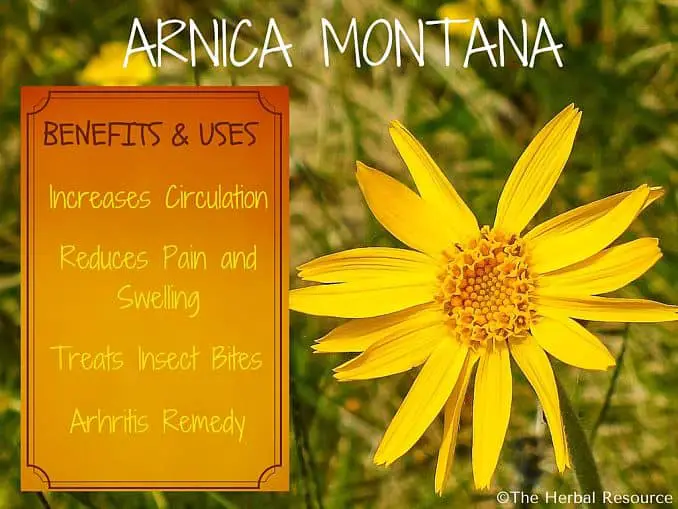 Therapeutic Benefits and Uses of Arnica Montana and Claims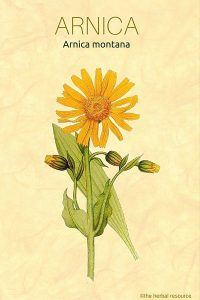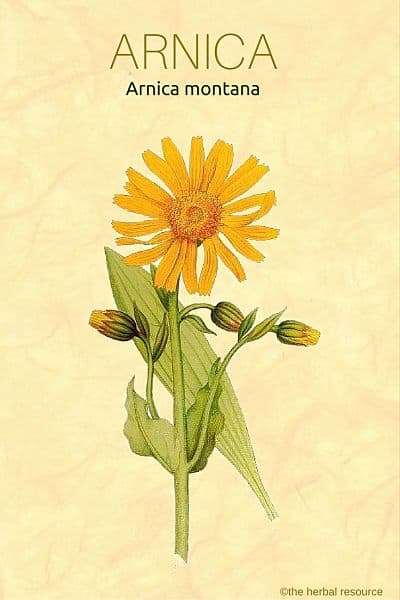 It has been used in folk medicine for ages, for its ability to speed the healing of tissues.
Arnica montana is widely held to improve blood circulation, allowing oxygen to get to the cell faster.
Used topically, Arnica Montana is touted as a great way to speed the healing of bruises and sprains, and it is used as an alternative treatment in sports related injuries of this type.
Arnica Montana acts as an anti-inflammatory and has even been indicated as a way to speed the absorption of internal bleeding back into the body.
Medications made from this plant are often thought of as a preferential treatment for leg ulcers in diabetic patients.
Folk remedies say that arnica is effective in preventing various diseases by taking it at the first indication of illness.
Arnica Montana is thought to be an effective herbal treatment for bacterial infections, including salmonella and listeria. Comprehensive testing has not been performed to prove or disprove this.
It is possible that arnica can speed up the healing process after a surgical procedure, and as an anesthetic to reduce pain during surgery, including dental procedures.
In folk medicine, arnica has been used for migraine and tension headaches. It has recognized sedative effects that relieve pain, and relax muscles.
Diluted arnica packs may be applied to an abscess, reducing swelling, and speeding up the absorption of toxins and allowing tissue to heal quickly.
Applied topically to the unbroken skin, arnica patches relieve pain, similar to commercial pain patches.
In rheumatic joints, a topical application reduces swelling and pain, offering dual relief for those who suffer from painful joints.
Dosage and Administration
Arnica is rarely administered in a pure form. Instead tinctures are prepared, and can then be used as the basis from which other treatment methods are created.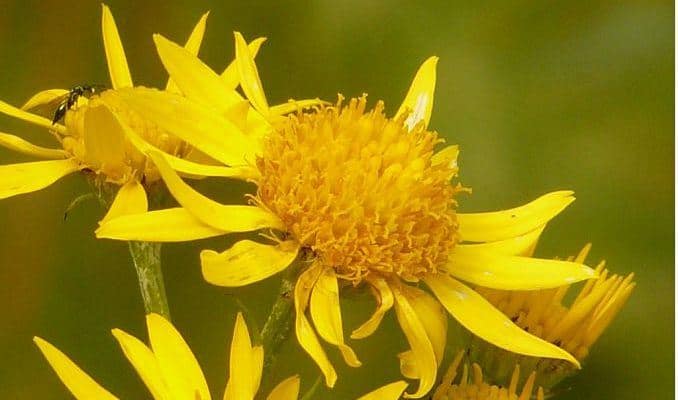 Side Effects and Possible Interactions of Arnica Montana
Arnica is a very potent plant, and some of its effects, especially at high doses can be fatal. For this reason, it is rarely used as an internal medication today, and even topical ointment is generally confined to areas where the skin has not been broken.
Arnica Montana can cause dizziness, tremors, and heart irregularities. Other possible side effects may include vomiting, muscle weakness, and an increased risk of bleeding. Arnica should only be used under the supervision of a qualified care giver, because incorrect use could result in extreme side effects, including death.
Other Resources I like on Arnica Montana
How to Make Arnica Ointment by Rosalee de la Forêt
Supporting References
Atkins, Rosie, et al.: Herbs. The Essential Guide for a Modern World. London, Rodale International Ltd. 2006.
Blumenthal, Mark: Herbal Medicine. Expanded Commision E Monographs. Austin, Texas, American Botanical Council 2000.
Foster, Steven & Varro E. Tyler: Tyler's Honest Herbal. A Sensible Guide to the Use of Herbs and Related Remedies. Fourth edition. New York & London, The Haworth Herbal Press 1999.
Mills, Simon & Kerry Bone: Principles and Practice of Phytotherapy. London, Churchill Livingstone 2000.
Mills, Simon & Kerry Bone: The Essential Guide to Herbal Safety. St. Louis, Elsevier 2005.
Treben, Maria: Health from God's Garden. Rochester, Thorsons Publishing Group 1987.