Since trauma is an unfortunate fact of life, so is post-traumatic stress disorder. An estimated one in 17 Americans experiences PTSD at some point in their lives. (1)
It's only in the last 50 years or so that science has really defined PTSD, so psychologists are still working to understand it and build an armory to fight it. One potential new weapon is CBD oil, a natural, non-intoxicating extract of the Cannabis sativa plant.
Research has already indicated that CBD can have many benefits, but these studies are in the early stages of development.
According to one recent study in the Journal of Alternative and Complementary Medicine about human case studies of PTSD sufferers, CBD has the power to combat the debilitating signs of PTSD. (2)
Eleven PTSD patients took CBD for eight weeks, and more than 90% saw an overall improvement. They also reported no bad side effects, supporting previous studies on the overall safety of CBD use. (3)

So exactly how does CBD help people recover from trauma? To answer that, we need to take a closer look at exactly what's going on.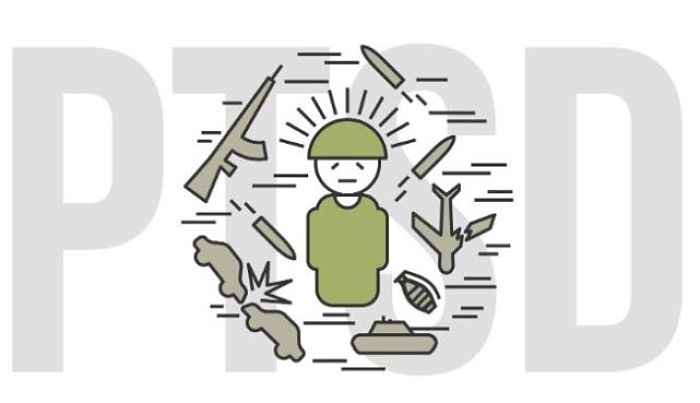 PTSD Symptoms
The reason why some people develop PTSD after trauma while others don't is still a mystery. Most of us know someone who has suffered through horrific tragedies and we're able to quickly move on, while others seem to be trapped by their painful pasts.
One thing that's clear is that PTSD has something to do with how we process memories. Sufferers can find memories flooding in due to a trigger or for no apparent reason; these memories can be experienced while awake or during sleep. (4)

Some PTSD sufferers may have complete or partial amnesia of the event, but can still live with the lingering emotional effects.
Among those lingering effects are depression and anxiety, coupled with the sense of always being on alert for potential danger. Some sufferers may be irritable and angry all the time, while others can feel emotionally numb and detached from everything.
A lot of people have PTSD-type symptoms right after a trauma, but these usually subside in a short period of time. These issues become part of a larger problem when they continue to drag on, and in more serious cases, continue to get worse as time progresses.
Leaving PTSD untreated is a risky course. Some people medicate themselves with alcohol and/or drugs, which can ultimately make their problems worse by providing a "quick fix" for a more serious, long-term issue.
Others may develop eating disorders or an addiction to risky behaviors. Sadly, suicide is also a serious complication of PTSD.
Fortunately, there are ways to treat it. Surprisingly enough, studying CBD and other cannabis ingredients are helping us better understand the complications involved with injuries of this nature.
What CBD Does
Research in the last few decades has revealed a lot about why cannabis and its active components, called cannabinoids, affect us in a positive manner.
Our bodies have an endocannabinoid system (ECS), which sends and receives signals between our cells. Cannabinoids interact with those receptors, and so can seemingly affect the functions of these receptors found throughout the ECS. (5)

Those functions include: monitoring inflammation, maintaining proper digestion, promoting proper sensory perception, and assisting with cognitive functions, among others.
The most relevant function of these receptors in terms of PTSD sufferers is how they regulate mood and memory. While the exact mechanism is still being determined, CBD seems to help ease anxiety as well as disrupt the presence of unpleasant memories. (6,7)

Since PTSD involves both unpleasant memories and anxiety, CBD seems like a reasonable subject of investigation. According to the study found in the Journal of Alternative and Complementary Medicine, patients on CBD reported a 28% decline in lingering symptoms when using a common scoring system to measure PTSD severity. (8)
Subjects also reported a decrease in nightmares, which can be an especially stubborn problem in PTSD. This surprised the researchers, but CBD has shown properties that can benefit sleep.
Some studies have found it effective against insomnia, even though it's not a sedative and doesn't appear to disturb people's normal sleep patterns. (9)

CBD and Current PTSD Drugs
One would expect, though, that if CBD becomes a standard part of the PTSD solution regimen, it will also be used in combination with other forms of therapy. Many patients are already getting a combination of psychotherapy and drugs – with a wide range of results.
The drugs now used to treat PTSD are pretty much the same as those for other forms of depression and anxiety, and they have their drawbacks
Some of the most popular anxiety fighters, like Xanax and Valium, have the potential to be highly addictive. It is generally suggested that patients should only take them for a short period of time.
Antidepressants include familiar names like Prozac, Zoloft, and Paxil. They aren't addictive, but some people do get unpleasant side effects from them, including drowsiness, dizziness, trouble sleeping, and loss of sexual desire. There's also a small but significant increase in suicide risk when people start taking antidepressants.
Another drug sometimes used for PTSD is prazosin. Research results on it have been mixed, but it may help with nightmares, which is one sign other medicines don't directly address. It can also cause feelings of extreme dizziness and drowsiness.
Unlike the grab-bag of other synthetic options, CBD has a safe profile. In a 2017 report, the World Health Organization declared that CBD had no risk of addiction or abuse. It's also an all-natural plant extract, meaning that it can be an attractive option if you're suspicious of synthetic pharmaceuticals. (10)
Psychotherapy and CBD: A Naturally Powerful Combo
If you or someone you know is interested in taking CBD for, one great benefit is that it can be taken in conjunction with other forms of therapy. (11)
Some forms of trauma therapy, including psychotherapy, have proven quite effective and can be done with the help of other natural alternatives.

Generally speaking, psychotherapy for PTSD takes two lines of attack; one is to retrain your thought process. Methods like cognitive-behavioral therapy can give you skills for interrupting negative thoughts when they appear, resulting in a more positive mental reaction. (12)
Exposure therapy can also help, especially if particular triggers or situations are leading to PTSD outbursts. With exposure therapy, patients are exposed to particular fears – whether in real life, imagination, or virtual reality – in a controlled, safe way. (13)
A lot of us do this informally to confront our fears, but working with a therapist can help provide a more safe environment.
There's no reason you can't take CBD along with different forms of therapy, so long as you consult your healthcare provider about it. Interestingly enough, a study was recently launched investigating combining CBD with exposure therapy to see if it can enhance its effects. (14)
CBD User's Guide
CBD has become widely available in the US since the passage of the 2018 Farm Bill, both online and in retail stores; but you have to be careful what you're getting. The surging demand has sometimes driven supply at the expense of quality control. (15)
One thing you want to look for is that the CBD oil contains no THC. THC is the psychoactive component of cannabis, and while many people find it relaxing, it can also induce more anxiety and paranoia in others. Since anxiety and paranoia are already common signs in PTSD sufferers, you don't want to risk that.

Look for a supplier who's transparent about where their CBD is coming from and how they extract it. Under federal law, legal CBD is derived from industrial hemp and is defined as hemp with no more than 0.3% THC by dry weight. (16)
When it comes to CBD dosing, it will vary on a case-by-case basis. Depending on body composition, age, and severity of symptoms, the amount of CBD needed for desired results will depend on the user.
Previous studies took a closer look at high doses of CBD, but as the authors note, getting 600 mg of CBD is expensive. (Hopefully, the growing hemp supply will allow prices to fall.) (17,18)
The best approach is to start at a low dose and see what happens, then adjust accordingly. CBD does build up in your system so give it two to three weeks to fully adjust.
The patients in the earlier mentioned study took capsules, though some used an oral spray. Capsules are convenient but they have a low bioavailability – that is, a smaller percentage of the active ingredient actually makes it to your bloodstream.
Some higher-bioavailability methods include tinctures and vapes, though the latter's effects only last a couple of hours. A transdermal patch can be a good option since the full strength of the CBD seeps in over six to eight hours.
We can hope that as research goes on, we'll all get a better idea of how best to use CBD as part of PTSD therapy. But in the meantime, it's an option worth exploring.
The following two tabs change content below.
Amy R
Amy R. is born in New York and raised in northern California. She joined
cbdMD
after spending 17 years as a business reporter in Los Angeles and Washington, D.C. In her free time, she enjoys reading, traveling, visiting museums, watching movies, and fantasizing that she'll one day finish her novel.