Botanical Name: Stellaria media.
Other Common Names: Adder's mouth, alsine, chick wittles, chickenmeat, clucken wort, common chickweed, hashishat al qazzaz, passerina, satinflower, sercedili, skirt buttons, star chickweed, starweed, starwort, stitchwort, tongue grass, vogelmuur, white bird's wye and winterweed.
Habitat: Chickweed is native to Europe and Asia, and is now found throughout the world.
It is a common hardy plant that easily grows in cropland and fallow fields, lawns and gardens, areas adjacent to buildings, and in waste areas.
It prefers partial to full sun, moist to mesic conditions, and moderately fertile loam or clay loam soils.
It tolerates light shade and temporary flooding, and while it can be found to some extent in natural areas, it prefers areas that have been disturbed.
Plant Description: Chickweed is low growing, with matted and trailing green stems from six to fifteen inches in length. The branching stems may be green or burgundy, are leafy and bunched at the base, and often take root at the leaf junctions.
The leaves are succulent, smooth and oval with a point at the tip. They are ½-1" in length, and ¼-1/2" across. The older leaves at the base usually have short petioles that are slightly hairy, while the newer leaves are sessile (lacking a petiole). The stems have a single line of fine hairs along the side, and the line changes sides at each leaf.
The five petals of the tiny white flowers are so deeply divided that there appear to be ten petals. The five green sepals are often longer than the flower petals. The flowers close at night, or when the sky is overcast.
Chickweed is extremely hardy, remaining green in winter even in the northern latitudes.
It will germinate year-round; either as a summer annual or as a winter annual that germinates in the fall, winters over, and flowers and sets seed in early spring.
Plant Parts Used: Aerial parts and root.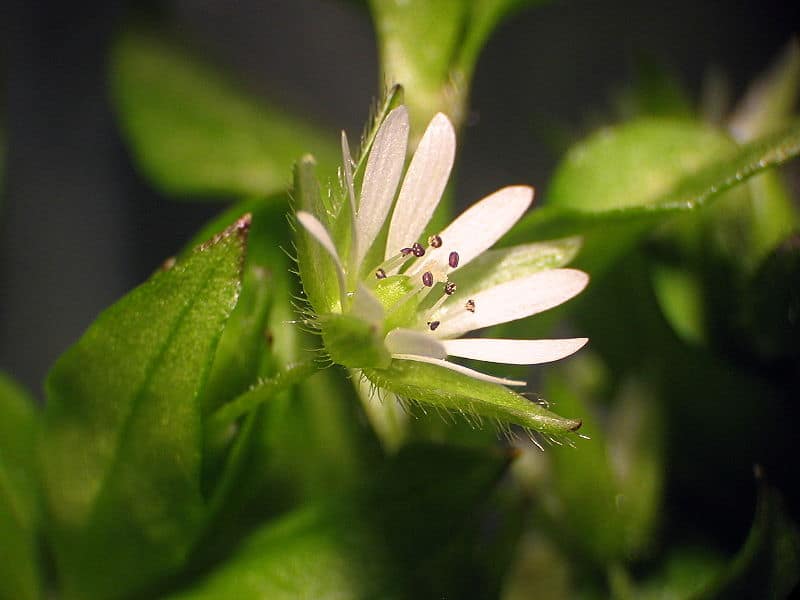 Therapeutic Uses, Benefits and Claims of Chickweed
The medicinal actions of chickweed are antirheumatic, astringent, carminative, demulcent, diuretic, emollient, expectorant, laxative, refrigerant, and vulnerary.
The benefits of chickweed may in part be due to its high nutritional value. It is particularly high in ascorbic acid (vitamin C), gamma-linolenic acid (GLA, the omega-6 fatty acid derivative), saponins, niacin, riboflavin (B2) thiamine (B1), beta carotene (A), magnesium, iron, calcium, potassium, zinc, phosphorus, manganese, sodium, selenium and silica.
Chickweed is best known for its soothing and healing quality. The high saponin content of this herb is thought to be the reason for its effectiveness in relieving skin problems such as erysipelatous and other forms of ulceration, as well as many forms of cutaneous diseases.
Chickweed has been used traditionally as an external remedy for cuts, wounds, minor burns, abscesses and skin irritations, especially such as itching, dryness and irritation due to dermatitis, eczema or psoriasis.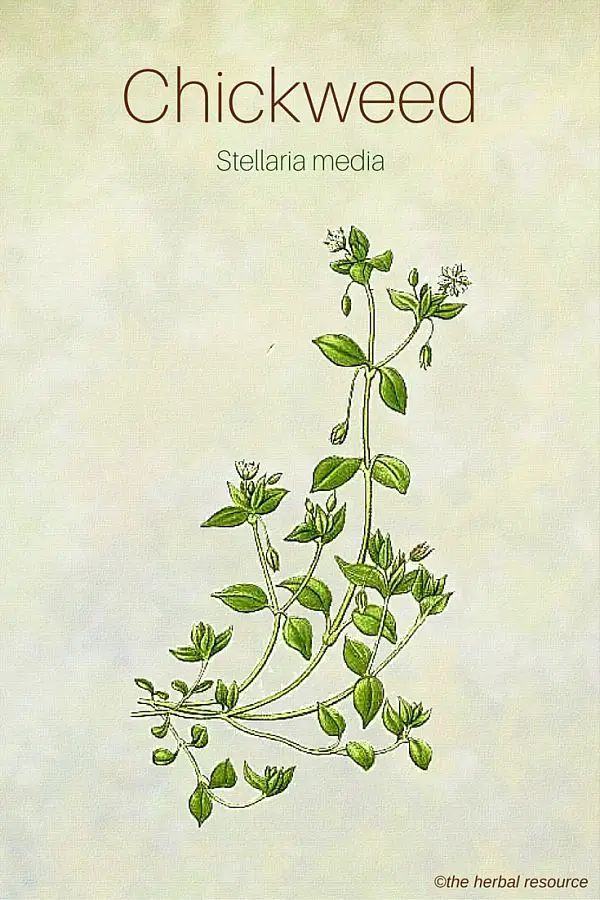 Taken internally as a tea or tincture, chickweed has a reputation as a treatment for rheumatism and an infusion of the fresh or dried leaves added to bath water is thought to reduce inflammation caused by rheumatic pain.
A poultice of the crushed leaves has been used traditionally to relieve any kind of roseola and is thought to be effective where there are fragile superficial veins.
Taken internally in small quantities as a decoction, chickweed is considered a treatment for constipation, kidney complaints and quick relief of pain in the digestive system.
Additionally, chickweed decoction has been used in traditional herbal medicine to treat cystitis and other related urinary tract inflammations.
Chickweed is used as a detoxification agent and is considered to be as effective as herbs such as burdock root for its blood cleansing abilities.
A decoction of the fresh aerial parts is a traditional treatment for relief from extreme physical fatigue and debilitation.
Fresh chickweed is delicious eaten in summer salads. The seeds are a favorite of finches and other seed-eating birds, and the greens can be fed to domestic animals.
Dosage and Administration:
Taken as an internal remedy, the recommended dosage is about 1-5 ml daily of the herbal tincture.
Taken as a tea, pour one cup of boiling water over two teaspoonfuls of the dried herb and steep for 5 minutes; do not allow the herb to boil.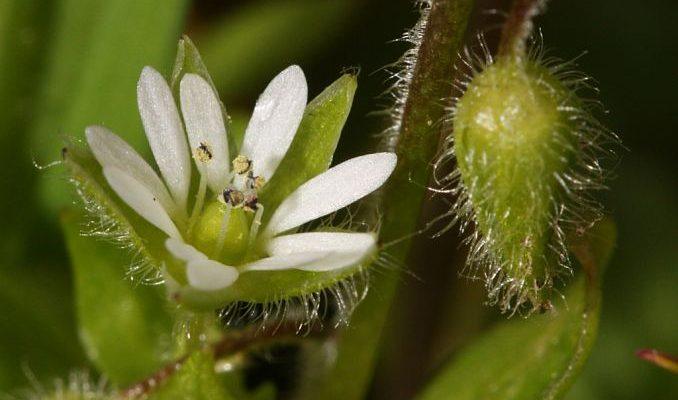 Potential Side Effects of Chickweed
Chickweed may cause contact dermatitis and people with allergies to the daisy plant family could also react to chickweed.
Chickweed is usually considered a safe herb but it should not be used by pregnant or nursing women without consulting a professional healthcare provider.
The following two tabs change content below.

Thordur Sturluson
Thordur Sturluson
has B.S in Biology majoring in Botany, masters in Zoology. He is a trained scuba diver and researcher with an interest in nature conservation and animal/plant protection.

Latest posts by Thordur Sturluson (see all)