Dementia is an ailment that has followed mankind from the very beginning.
Today it is thought that over 24 million people suffer from dementia, worldwide, with a new case diagnosed every 7 seconds and it is estimated that the number of people afflicted with this disease will double every 20 years. (1)
People suffering from dementia may have symptoms such as progressive cognitive impairment, memory loss, delusions, hallucinations, and impaired social function.
In people age 65 and older the Alzheimer's disease is recognized to be the main causative factor in cases of the most common form of dementia (progressive dementia). (2)
At the moment, there is no cure for dementia. Still, there are few conventional medicines that are known to slow the progression of the disease.
Medicinal herbs intended as a treatment should never replace any conventional medication or therapies and should be regarded as an addition or as a supportive therapy.
A large number of patients in the developing world with dementia, where the use of herbal medicines are often the mainstay of therapy, coupled to a global upswing in the use of natural preparations, underscores the need to fully characterize and understand how medicinal herbs can be used in the management of dementia.
While the effects of these natural remedies are varied, it appears that herbs may be useful in the treatment of dementia in three separate ways:
Increasing blood flow to the brain.
Decreasing the destruction of neurotransmitters critical to proper brain function.
Decreasing the level of agitation known to accompany dementia. (3)
In general, when using medicinal plants as a treatment for any disease, caution should always be a key factor, since herbs can interact with other herbs, medications or supplements.
Since some of the herbs used to treat dementia do so by increasing blood flow, they may also have the potential to act as blood thinners and interact with similarly acting medications or supplements, such as warfarin.
As a result, it is critical that herbal remedies should be used only by patients that have first consulted with a physician or other health care provider.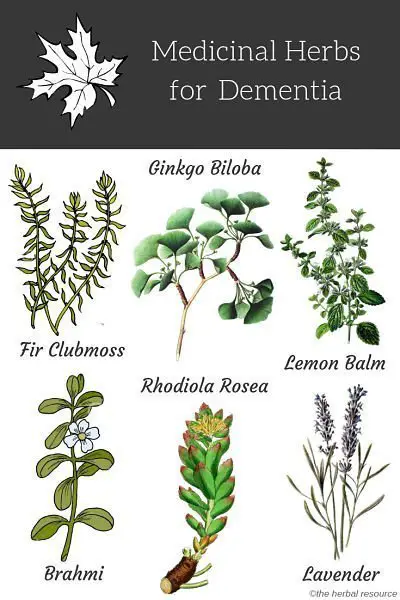 5 Medicinal Plants with the Potential to Treat Dementia
Ginkgo
The gingko tree (Ginkgo biloba) is one of the oldest surviving trees; existing today, as it did during the age of dinosaurs.
Mature gingko trees can grow upwards of 30 meters in height, and due to their wide and rounded shape, make excellent shade trees.
The gingko tree can live for up to 1,000 years or even longer and has been used in Asian herbal medicine for nearly 5,000 years.
The Chinese consumed gingko leaves in an effort to prevent memory loss. In Western culture, a serious examination of the potential value of the gingko is a more recent phenomenon.
Current research suggests that gingko can increase blood circulation to the brain but if it can actually help battle the symptoms of dementia is still undetermined. While some clinical trials have shown it to be effective others have not.
Pierre Le Bars, MD, Ph.D., et al at the New York Institute for Medical Research in Tarrytown, New York, reported in the Journal of the American Medical Association (JAMA) a study that they conducted, which enrolled 309 patients with mild to severe dementia.
In this yearlong study, patients were randomized to receive either placebo or 120 mg per day of a Gingko biloba extract, commonly used in Europe to ease the symptoms associated with a variety of cognitive disorders. Patient outcomes were assessed after 12, 26 and 52 weeks of treatment.
Patients treated with the gingko biloba extract scored higher than those receiving placebo on scales measuring cognitive function and geriatric function.
No significant differences were observed in the safety profile of patients taking gingko biloba extract or placebo.
The authors concluded that the gingko biloba extract was safe, and appears capable of stabilizing, and sometimes improving, the cognition of demented patients. (4)
Steven DeKosky, MD, and colleagues at the University of Pittsburgh, reported in JAMA, the results of a clinical study assessing the value of Ginkgo biloba in reducing the incidence of dementia and Alzheimer's disease in older subjects with either normal cognitive abilities or mild cases of cognitive impairment.
In this trial, a total of 3,069 volunteers were enrolled and randomized to receive either placebo or a twice-daily, 120 mg dose of ginkgo biloba extract.
The outcome measured was the development of dementia or Alzheimer's disease. Subjects were evaluated for disease every 6 months for an average of just over 6 years. Of all of the subjects enrolled, a total of 523 subjects developed dementia.
Of these subjects, 246 had received placebo, while 277 had been administered ginkgo biloba extract. Over 90% of the diagnosed dementia cases were classified as resultant of Alzheimer's Disease. The authors concluded that ginkgo biloba was not effective in decreasing the incidence rate of dementia in elderly subjects. (5)
The active components found in the gingko leaves are likely too diluted to use as infusions or tinctures.
Rather, it is preferable to acquire a commercially available, standardized extract product and use according to the labeled directions.
It appears that most of the ginkgo biloba extract research described in the scientific literature used a daily dose of 120 – 240 mg, divided into 3 doses.
Because products differ, it is advisable to follow the instructions on the product labeling.
The side effects expected to be associated with the use of ginkgo biloba are rare and usually mild.
Nonetheless, some people may experience diarrhea, upset stomach, skin reactions, headaches or insomnia after using ginkgo biloba.
The seeds of ginkgo biloba should not be consumed, as they can be toxic, even lethal if sufficient quantities are consumed.
Ginkgo biloba should not be used by patients taking monoamine oxidase inhibitors for depression.
Lastly, Ginkgo biloba acts as a blood thinner. As a result, nosebleeds or bleeding gums may be a sign that the dose of Ginkgo biloba should be reduced or stopped.
Fir Clubmoss
Fir clubmoss (Huperzia serrata) has been used traditionally in China to make a medicine called Qiancengta which has been used for thousands of years to treat a variety of ailments like schizophrenia, contusions, strains and myasthenia gravis.
More recently, scientists discovered that a compound called Huperzine A, which is derived from Huperzia serrata, is an inhibitor of an enzyme called acetylcholine esterase (AChE).
AChE inhibitors are known to increase the concentration of neurotransmitters critical to healthy brain function and show an effect in the treatment of Alzheimer's disease, and as a result, dementia.
Because of these findings, the use of Huperzine A has become widespread, worldwide. (6)
ZQ Xu, MD, and colleagues at the Department of Neurology, Third Military Medical University in Daping, China, conducted a clinical trial designed to characterize the safety and efficacy of Huperezine A in patients with mild to moderate dementia.
In this experiment, they enrolled a total of 78 patients, who were randomized to receive either 100 mg vitamin C, twice daily, or 0.1 mg Huperezine A, twice daily for 12 weeks.
In order to assess the efficacy of the treatments, mental state examinations, dementia rating scores and activities of daily living scores were obtained prior to, as well as 4, 8 and 12 weeks after starting treatment.
At the end of the treatment period, significantly favorable scores for all variables were obtained in the Huperezine A-treated patients, relative to baseline. No improvements were enjoyed by the patients who received vitamin C. Importantly, no serious adverse events were reported.
The investigators concluded that Huperezine A is capable of significantly enhancing cognitive function in patients with mild to moderate dementia.
Huperezine A, a single isolated, potent compound, although derived from a natural product, actually more closely resembles a naturally derived drug product.
As such, it should be commercially procured as a standardized supplement. A recommended dose of 100-200 micrograms per day can be effective in the treatment of dementia. (7)
Huperzine A is generally safe and well tolerated. Nonetheless, its use should be avoided by children, pregnant women, women trying to become pregnant, nursing women, patients with high blood pressure, kidney or liver disease.
The scientific literature does not contain specific information detailing interactions with herbs, supplements or other medications. As such, like any medicine, it should be used under the supervision of a qualified health practitioner. (8)
Lemon Balm
Lemon balm (Melissa officinalis) has been cultivated along the Mediterranean coast for over 2,000 years.
Its first known mention was in the Greek and Latin classics, it was popular as a drink during medieval times, became mainstream in England during the 1600's, and came into use by native and colonial Americans, shortly thereafter.
For most of its history, it has been used for its sedative, antibacterial and antispasmodic activity.
Currently, lemon balm is gaining interest in Europe and North America as a medicinal herb for Alzheimer's Disease and dementia.
Interestingly, while some investigators are pursuing research investigating the impact of systemic Melissa officinalis on dementia symptoms, it appears that most of the research is focused on its calming qualities in patients with dementia, with significant efforts towards establishing its value when used as aromatherapy.
Professor Shahin Akhondzadeh, MD, et al at Roozbeh Psychiatric Hospital and the Tehran University of Medical Sciences in Tehran, Iran, conducted a clinical study to characterize the safety and efficacy of a Melissa officinalis extract in the treatment of patients with mild to moderate Alzheimer's disease.
Subjects received either 60 drops per day of Melissa officinalis extract or placebo for a total of 4 months of treatment. The main efficacy measures were the change in Alzheimer's disease symptoms and a clinical dementia rating.
At the end of the treatment period, patients who received Melissa officinalis extract demonstrated significantly better cognitive outcomes than those who received placebo.
There was no difference in the extent or severity of adverse events reported between the groups, with the exception of agitation, which was more commonly observed in the placebo group.
The investigators concluded that Melissa officinalis extract has potential in the management of Alzheimer's Disease and its accompanying dementia. Further, they posit that it may also reduce the incidence of agitation. (9)
Clive Ballard, MD, and investigators at the Wolfson Research Centre in Newcastle, United Kingdom, reported on a double-blind, placebo-controlled trial designed to characterize the effect of aromatherapy with the oil of lemon balm on agitation in patients with severe dementia.
In this trial, they recruited a total of 72 patients, who were randomized to receive aromatherapy with either oil of Melissa officinalis (active treatment) or sunflower (control).
The study oil was combined with a base lotion and applied to the patients' arms and face, twice daily for 4 weeks. No significant side effects were reported.
Sixty percent of patients in the Melissa officinalis group experienced a reduction in agitation of at least 30%, while 14% of patients who received the control treatment experienced the same reduction in agitation.
The authors concluded that Melissa officinalis aromatherapy is a safe and effective approach for treating the agitation associated with severe dementia. (10)
Lemon balm intended as an herbal remedy is usually available commercially as a standardized extract. Since preparations can vary, the labeled directions should always be followed.
Alternatively, 1.5-4.5 grams of dried powder can be made into a tea by steeping in 150 mL of boiling water for 10-15 minutes.
The resultant tea can be consumed three times daily. In order to use as aromatherapy, the oil of Melissa officinalis can be commercially procured and inhaled, either undiluted or mixed into an aqueous cream.
The long-term safety of lemon balm has not been established. When used over the short-term (4 months, or less), symptoms such as abdominal pain, vomiting, nausea, dizziness, and wheezing have been reported but are rare.
When used topically, case studies describing irritation and possible exacerbation of herpes symptoms have been reported.
Melissa officinalis may raise the pressure within the eye, so patients with glaucoma should use Melissa officinalis with caution and under the supervision of a qualified health practitioner.
The potential for Melissa officinalis to interact with other herbs, medications or supplements is not well established. (11)
Brahmi
Brahmi (Bacopa monnieri) is one of the most important medicinal herb in Ayurvedic medicine, historically used as a remedy for the treatment of nervous disorders.
Additionally, it was used to treat heart problems, respiratory issues, and urinary incontinence.
Bacopa monnieri contains compounds called bacosides, substances that enhance neurotransmitter levels in the brain involved in learning and reasoning.
Amitava Das, Ph.D., of the Division of Pharmacology, Central Drug Research Institute in Lucknow, India, and investigators, set out to characterize the effects of brahmi on dementia and neurotransmitter activity in mice.
After the rodents were chemically demented using scopolamine, a total of 3 different extracts of Bacopa monniera were administered to the animals at dose levels of 30 mg per kg of body weight, every day for 7 days.
At the end of treatment, tests were administered to the animals evaluating their ability to learn.
The results obtained, suggested that brahmi extract was able to decrease the effects of dementia and reduce the activity of an enzyme responsible for degrading certain neurotransmitters known to enhance brain activity.
The conclusion was that this herb may be useful in the treatment of dementia. (12)
Carlo Calabrese, ND, MPH, of the Helfgott Research Institute in Portland, Oregon, and colleagues conducted a randomized, placebo-controlled clinical trial designed to evaluate the efficacy of a standardized Bacopa monnieri extract on cognitive function in healthy, elderly subjects.
A total of 54 subjects, at least 65 years of age, without symptoms of dementia were randomized to receive either 300 mg per day of Bacopa monnieri extract or placebo for a total of 12 weeks.
The outcome measurement was a delayed recall score, obtained using a validated scoring system.
Additional cognitive measures were also obtained measuring intelligence, anxiety, depression and the ability to ignore irrelevant information.
The treatment was well tolerated and showed improvement in memory, the ability to ignore irrelevant information, depression, and anxiety.
The investigators concluded that brahmi extract has the potential for safely enhancing cognitive function in the aging. (13)
If brahmi is intended as a medicinal herb for dementia, a suitable adult dose of the powdered herb is 5-10 grams, per day, or 5-12 milliliters of fluid extract, per day in divided doses.
Alternatively, if a standardized extract product is preferred, a normal dose would be 200-400 milligrams per day.
If commercial products are used, it is best to follow the package instructions, specific to that product.
If used at reasonable dose levels, brahmi is reasonably safe and is not known to cause significant side effects. Nonetheless, it can act as a sedative at high dose levels.
It should not be used by pregnant women, women who are trying to become pregnant, or nursing. The herb is not suitable for use in children under 2 years of age. It may be used in older children by adjusting the adult dose based on the child's weight, relative to a 70-kilogram adult.
Patients over 65 years of age should start with a low dose, and increase it gradually, as appropriate.
As with most herbal products, brahmi should be used under the supervision of a qualified health practitioner. (14)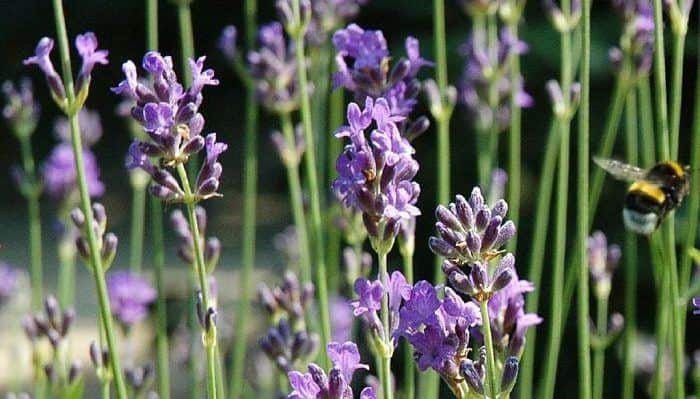 Lavender
Lavender (Lavandula angustifolia) is a pleasant smelling plant, popular for its medicinal use since the earliest recorded history.
It was commonly used as a perfume and to scent bath water by the ancient Romans and Egyptians.
Phytochemicals in lavender oil are readily absorbed into the skin and act to slow nerve impulses, leading to calm feeling and relaxation.
Lavender has been used in traditional folk medicine for the treatment of dementia.
Clive Holmes, MD, et al, at the University of Southampton, United Kingdom, conducted a clinical trial to assess the efficacy of lavender oil in the treatment of agitated behavior in patients with severe dementia.
Their trial enrolled a total of 15 demented patients with agitated behavior. Subjects received a two-hour treatment of 2% lavender oil aromatherapy every other day for 10 consecutive days.
On their non-lavender oil-treated days, they received placebo aromatherapy.
Patients were scored using a standardized agitation score after each treatment.
After treatment with lavender oil, 60% of patients showed improved behavior compared with placebo, 33% showed no difference, and 7% of patients showed improved behavior after being administered placebo aromatherapy.
The investigators concluded that lavender oil administered by aromatherapy showed modest efficacy compared to placebo. (15)
Pamela Wan-ki Lin, Ph.D., et al, at the Department of Occupational Therapy, at Castle Peak Hospital in Hong Kong, conducted a cross-over clinical trial investigating the efficacy of lavender in the treatment of agitation associated with dementia.
In this study, a total of 70 adults with dementia were enrolled. Approximately half of the subjects were randomized to first receive aromatherapy using lavender for three weeks, prior to being crossed over to the control group, which was aromatherapy using sunflower oil.
The other half of the subjects completed both treatments in the opposite sequence. The clinical response was measured using agitation, as well as neuropsychiatric inventory tests.
After treatment with lavender, the agitation score decreased by 28% and the neuropsychiatric inventory score decreased by 7%.
It was concluded that lavender, when administered as aromatherapy is effective in decreasing agitation in patients with dementia. (16)
Lavender oil should never be ingested. Rather, it should be used in bath water or rubbed onto the skin.
When used in this manner, no adverse events have been reported or considered likely.
Other Medicinal Herbs that May be Useful to Treat Dementia
Supporting Referances – Online
Ferri CP, Prince M, Brayne C, et al.: Global Prevalence of Dementia: A Delphi Consensus Study. Lancet. 2005; 366: 2112–2117.

Shaji, S., Bose, S., & Kuriakose, S. (2009). Behavioral and psychological symptoms of dementia: A study of symptomatology. Indian journal of psychiatry, 51(1), 38–41. doi:10.4103/0019-5545.44903,
Tewari, D., Stankiewicz, A. M., Mocan, A., Sah, A. N., Tzvetkov, N. T., Huminiecki, L., … Atanasov, A. G. (2018). Ethnopharmacological Approaches for Dementia Therapy and Significance of Natural Products and Herbal Drugs. Frontiers in aging neuroscience, 10, 3. doi:10.3389/fnagi.2018.00003.

Le Bars PL, Katz MM, Berman N, et al. A Placebo-Controlled, Double-blind, Randomized Trial of an Extract of Ginkgo Biloba for Dementia. JAMA. 1997; 278:1327-1332.

DeKosky ST, Williamson JD, Fitzpatrick AL, et al. Ginkgo biloba for Prevention of Dementia. JAMA. 2008; 300:2253-2262.

Guo B, Xu L, Wei Y, et al. Research advances of Huperzia serrata (Thunb.) Trev. Zhongguo Zhong Yao Za Zhi. 2009;34:2018-23.

Xu ZQ, Liang XM, Juan-Wu, et al. Treatment with Huperzine A improves cognition in vascular dementia patients. Cell Biochem Biophys. 2012 Jan;62(1):55-8.

Qian, Z. M., & Ke, Y. (2014). Huperzine A: Is it an Effective Disease-Modifying Drug for Alzheimer's Disease?. Frontiers in aging neuroscience, 6, 216. doi:10.3389/fnagi.2014.00216.

Akhondzadeh S, Noroozian M, Mohammadi M, et al. Melissa officinalis extract in the treatment of patients with mild to moderate Alzheimer's disease: a double-blind, randomized, placebo-controlled trial. J Neurol Neurosurg Psychiatry. 2003; 74:863–866.

Ballard CG, O'Brien JT, Reichelt K, et al. Aromatherapy as a safe and effective treatment for the management of agitation in severe dementia: the results of a double-blind, placebo-controlled trial with Melissa. J Clin Psychiatry. 2002; 63:553-558.

Assessment report on Melissa officinalis L., folium. European Medicines Agency. Committee on Herbal Medicinal Products (HMPC). 14 May 2013 EMA/HMPC/196746/2012.

Das A, Shanker G, Nath C, et al. A comparative study in rodents of standardized extracts of Bacopa monniera and Ginkgo biloba: Anticholinesterase and cognitive enhancing activities. Pharmacol Bioch Behav. 2002; 73:893-900.

Calabrese C, Gregory WL, Leo M, et al. Effects of a Standardized Bacopa monnieri Extract on Cognitive Performance, Anxiety, and Depression in the Elderly: A Randomized, Double-Blind, Placebo-Controlled Trial. J Alt Comp Med. 2008; 14: 707-713.

Pase, Matthew & Kean, James & Sarris, Jerome & Neale, Chris & Scholey, Andrew & Stough, Con. (2012). The Cognitive-Enhancing Effects of Bacopa monnieri: A Systematic Review of Randomized, Controlled Human Clinical Trials. Journal of alternative and complementary medicine (New York, N.Y.). 18. 647-52. 10.1089/acm.2011.0367.

Holmes C, Hopkins V, Hensford C, et al. Lavender oil as a treatment for agitated behavior in severe dementia: a placebo controlled study. Int J Geriatr Psychiatry 2002; 17: 305–308.

an-ki Lin P, Chan WC, Ng BFL. Efficacy of aromatherapy (Lavandula angustifolia) as an intervention for agitated behaviors in Chinese older persons with dementia: a cross-over randomized trial. Int J Ger Psych. 2007; 22:405-410.
Supporting References – Offline
Duke, James: Dr. Dukes Essential Herbs. Emmaus, PA. Rodale, Inc. 1999.
Michael Castleman: The new healing Herbs: The classic guide to nature's best medicines. Emmaus, PA. Rodale, Inc. 2001.
Duke, James A.: The Green Pharmacy: Herbal Handbook. Emmaus, PA. Rodale, Inc. 2000.
Foster, Steven and Rebecca Johnson: Desk Reference to Nature's Medicine. Washington DC. National Geographic. 2006.
Michael Castleman. The new healing Herbs: the essential guide to more than 125 of nature's most potent herbal remedies. Emmaus, PA. Rodale, Inc. 1999.
The following two tabs change content below.

Thordur Sturluson
Thor Sturluson has a BS in Biology, majoring in Botany, from the University of Maine and a masters degree in Zoology from the Open University in London. He's an experienced Biologist with a history of working in the environmental services industry. A trained scuba diver and researcher, Thor's has a keen interest in nature conservation and animal/plant protection. His work and botany passion has made The Herbal Resource what it is.

Latest posts by Thordur Sturluson (see all)