Herbal fertility remedies have existed in every culture for centuries before the development of modern fertility procedures.
Most of these fertility herbs are regarded to be safe when used in the appropriate dosage.
Some of these medicinal herbs are thought to produce the best results when used in combination.
The fertility herbs listed below have been selected for their time-tested traditional uses as remedies as well as having some supportive scientific information regarding their ability to alleviate the broad spectrum of conditions that can impact a woman's ability to conceive.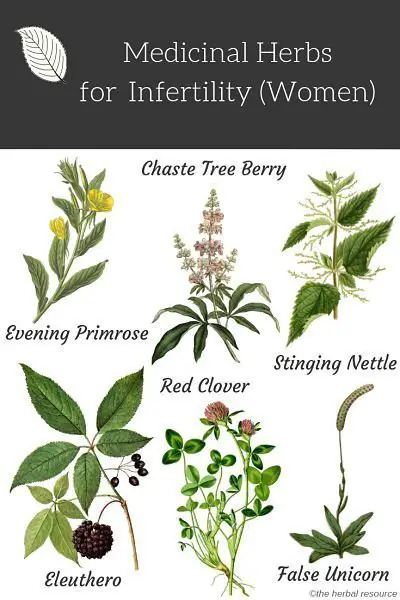 Herbs that Could Be Helpful in Increasing Fertility in Women
Chaste Tree Berry
Chaste Tree Berry  (Vitex agnus-castus) is one of the most renown natural fertility herbs for women.
It may have the ability to stimulate the pituitary gland which produces the female sex hormones; estrogen, progesterone, and testosterone, in addition to stimulating the ovulation process.
It is regarded to be particularly useful in cases where there are low levels of progesterone production as the herb seems to acts as a rejuvenating tonic to the reproductive system.
More specifically, this natural herb for fertility has been used by women suffering from irregular ovulation and by women with shorter luteal phases (the period between ovulation and the end of the menstrual cycle).
Chaste tree berry might also be useful in restoring normal ovulation after discontinuing use of birth control pills. (1)(2)
Evening Primrose
Evening Primrose (Oenothera biennis) is another plant with long traditional use,  that has gained some interest as a natural supportive treatment for infertility in women.
It is mainly the oil of the seeds of this North American wildflower which is rich in essential fatty acids that are regarded to be useful as a remedy for infertility.
One of these fatty acids,  the gamma-linolenic acid (GLA) is thought to be helpful in supporting hormonal gland functioning. (3)
The oil carries the benefit of alleviating premenstrual syndrome symptoms and aids in the production of cervical fluid that has an "egg white" consistency; thin, watery, clear and stretchy, this type of cervical fluid aids the sperm to stay alive for up to five days and swim easily to fertilize the egg.
False Unicorn
False Unicorn (Chamaelirium luteum) is used traditionally to restore hormonal balance, prevent miscarriage and in treating a prolapsed uterus.
It is used as a tonic for the reproductive organs, to ease ovarian pain and vaginal dryness.
False unicorn has also been found effective in the treatment of dysfunction of the ovaries. The benefits of this herb increases when used in combination with chaste tree berry. (4)
Red Clover
Red Clover (Trifolium pretense) has long been considered one of the most efficacious fertility herbs, particularly in cases of scarred fallopian tubes or the presence of abnormal cells in the reproductive organs.
Red clover is rich in isoflavones, these plant compounds mimic the estrogen in a woman's body.
It nourishes the uterus and relaxes the nervous system with protein, vitamins, calcium, magnesium and trace minerals which are needed by the hormonal glands. (5)(6)
Siberian Ginseng
Native to Russia, China, and Japan, this ancient Chinese fertility herb is highly respected for its restorative properties and is most often recommended for its aphrodisiac properties.
Siberian Ginseng (Eleutherococcus senticosis), also known as eleuthero is believed to be helpful in reducing stress, regulating the menstrual cycle, improving hormone balance, promoting fertility and toning the uterus, improving the ability of the fetus to implant after conception. (7)
Stinging Nettle
Due to its high content of chlorophyll, protein, calcium, iron and vitamin K,  stinging nettle  (Urtica dioica)  is regarded by herbalists to be very nourishing to the adrenal glands and kidneys.
It is used traditionally as a uterine tonic and vied to be useful in regulating the body's hormones, ovulation, and menstruation.
This herb is one of the richest plant sources of folic acid, which is vital for fetal health. (8)
Shatavari
Classified as the main Ayurvedic female remedy,  shatavari (Asparagus racemosus) is believed to have a calming, purifying effect which regulates hormonal production.
It is used traditionally for many female conditions, including pre-menstrual syndrome and pelvic inflammation.
The herb contains protein and phytoestrogens, the hormones that normalize estrogen levels.
It builds the blood, rejuvenates and nourishes the uterus, preparing it for conception and helps prevent miscarriage.
This versatile herb is also used as a post-partum tonic to normalize the hormones and uterus after childbirth and promotes lactation. (9)(10)
See more on Herbs to Increase Fertility in Men
Other Natural Herbs That Have Been Used to Increase Fertility
Supporting References
Rafieian-Kopaei, M., & Movahedi, M. (2017). Systematic Review of Premenstrual, Postmenstrual and Infertility Disorders of Vitex Agnus Castus. Electronic physician, 9(1), 3685–3689. doi:10.19082/3685.

van Die, Diana & G Burger, Henry & Teede, Helena & Bone, Kerry. (2012). Vitex agnus-castus Extracts for Female Reproductive Disorders: A Systematic Review of Clinical Trials. Planta medica. 79. 10.1055/s-0032-1327831.

Parhizkar, S., & Latiff, L. A. (2013). Supplementary health benefits of linoleic Acid by improvement of vaginal cornification of ovariectomized rats. Advanced pharmaceutical bulletin, 3(1), 31–36. doi:10.5681/apb.2013.006.

False Unicorn Root – Chamaelirium luteum (L). GRAY – Frostburg State University.

Yatkin, E., & Daglioglu, S. (2011). Evaluation of the estrogenic effects of dietary perinatal Trifolium pratense. Journal of veterinary science, 12(2), 121–126. doi:10.4142/jvs.2011.12.2.121.

Booth, Nancy & Piersen, Colleen & Banuvar, Suzanne & Geller, Stacie & Shulman, Lee & R Farnsworth, Norman. (2006). Clinical studies of red clover (Trifolium pratense) dietary supplements in menopause: A literature review. Menopause (New York, N.Y.). 13. 251-64. 10.1097/01.gme.0000198297.40269.f7.

Załuski, D., Olech, M., Galanty, A., Verpoorte, R., Kuźniewski, R., Nowak, R., & Bogucka-Kocka, A. (2016). Phytochemical Content and Pharma-Nutrition Study on Eleutherococcus senticosus Fruits Intractum. Oxidative medicine and cellular longevity, 2016, 9270691. doi:10.1155/2016/9270691.
Kregiel, D., Pawlikowska, E., & Antolak, H. (2018). Urtica spp.: Ordinary Plants with Extraordinary Properties. Molecules (Basel, Switzerland), 23(7), 1664. doi:10.3390/molecules23071664.
Alok, S., Jain, S. K., Verma, A., Kumar, M., Mahor, A., & Sabharwal, M. (2013). Plant profile, phytochemistry and pharmacology of Asparagus racemosus(Shatavari): A review. Asian Pacific Journal of Tropical Disease, 3(3), 242–251. doi:10.1016/S2222-1808(13)60049-3.

Hasan, Noorul & Ahmad, Nesar & Zohrameena, Shaikh & Khalid, Maad & Akhtar, Juber. (2016). ASPARAGUS RACEMOSUS: FOR MEDICINAL USES & PHARMACOLOGICAL ACTIONS.. International Journal of Advanced Research. 2016. 259-267.
The following two tabs change content below.

Thordur Sturluson
Thor Sturluson has a BS in Biology, majoring in Botany, from the University of Maine and a masters degree in Zoology from the Open University in London. He's an experienced Biologist with a history of working in the environmental services industry. A trained scuba diver and researcher, Thor's has a keen interest in nature conservation and animal/plant protection. His work and botany passion has made The Herbal Resource what it is.

Latest posts by Thordur Sturluson (see all)