Botanical Name: Epimedium grandiflorum, Epimedium sagittatum.
Other Common Names
Barrenwort
Bishop's hat
Fairy wings
Xian ling pi
Chien-hsieh
Yin-yang-hua
Arrow-leaf barrenwort
Habitat
It is native to China and grows best in high altitudes.
Plant Description
Horny goat weed is a rhizomatous perennial herb.
The plant has light yellow, violet, red, and white flowers, and oval fruits.
Plant Parts Used
Flowering parts and seeds.
Therapeutic Benefits and Uses of Horny Goat Weed
Horny goat weed has been used in traditional Chinese medicine for thousands of years to promote male potency and as an herbal aphrodisiac.
The legend says that it got its name when a Chinese shepherd noticed his male goats affectionate reaction to the female goats after digesting the weed.
In traditional herbal medicine horny goat weed is touted to have a diuretic, tonic, hypertensive, antibacterial, antirheumatic, antitussive and hypoglycemic effect.
It increases the nitric oxide levels, which relax smooth muscle thus allowing more blood flow which explains its uses as an herbal remedy for erectile dysfunctions. (1)
It has been used to increase seminal emissions and premature ejaculation as well. (2)
Horny goat weed is probably one of the most popular herbs used for the treatment of low male libido. (3)
It is not just used as an herbal sexual stimulant for men but also used for the same purpose for women.
It has sometimes been used traditionally as an herbal remedy for bronchitis and asthma but these uses have not been proven by scientific methods.
Herbalists have also used it to naturally lower blood sugar levels, to treat lumbago, arthritis, numbness, and weakness of the limbs. These applications of the herb are solely based on traditional uses.
Horny goat weed is thought to be able to increase levels of epinephrine, norepinephrine, dopamine, and dopamine and could be effective as an herbal remedy for anxiety and stress. (1)
Dopamine may be responsible for the reproductive effects as it can cause a release of testosterone which could explain its popularity as an herbal libido enhancer.
In some human and animal studies the ability of horny goat weed to return cortisol levels back to normal has now been linked to its potential for bringing about a reduction in bone deterioration and an increase in muscle mass, as well as a loss of body fat and improvement in the immune-system but more studies are needed to validate these claims. (4)
There has been some indication that horny goat weed could be useful as a herbal remedy to treat menopause and related symptoms. (5)
It should be noted, however, that research regarding the herb's efficiency related to menopausal symptoms is in its infancy and more and thorough studies are needed to fully confirm this.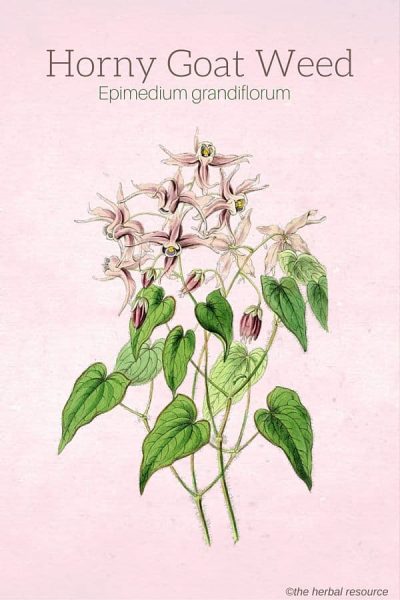 Dosage and Administration
The recommended dose of horny goat weed is usually around 250-1,000 mg daily.
Side Effects and Possible Interactions of Horny Goat Weed
It can cause hypersensitivity and allergic reaction in some people.
Pregnant and nursing women should not take horny goat weed.
If too much is ingested, it can cause nosebleed, thirst, and vomiting.
Supporting References
Shindel, A. W., Xin, Z. C., Lin, G., Fandel, T. M., Huang, Y. C., Banie, L., … Lue, T. F. (2010). Erectogenic and neurotrophic effects of icariin, a purified extract of horny goat weed (Epimedium spp.) in vitro and in vivo. The journal of sexual medicine, 7(4 Pt 1), 1518–1528. doi:10.1111/j.1743-6109.2009.01699.x.
Gajjala, S. R., & Khalidi, A. (2014). Premature ejaculation: A review. Indian journal of sexually transmitted diseases and AIDS, 35(2), 92–95. doi:10.4103/0253-7184.142391.
Lim P. (2017). Asian herbals and aphrodisiacs used for managing ED. Translational andrology and urology, 6(2), 167–175. doi:10.21037/tau.2017.04.04
Huang, J., Li, J., Zheng, S., Wu, J., Zhang, W., Sun, T., … Xia, S. (2013). Epimedium flavonoids counteract the side effects of glucocorticoids on hypothalamic-pituitary-adrenal axis. Evidence-based complementary and alternative medicine : eCAM, 2013, 938425. doi:10.1155/2013/938425.

Zhang, Ge & Qin, Ling & Shi, Yinyu. (2007). Epimedium-Derived Phytoestrogen Flavonoids Exert Beneficial Effect on Preventing Bone Loss in Late Postmenopausal Women: A 24-Month Randomized, Double-Blind and Placebo-Controlled Trial. Journal of bone and mineral research : the official journal of the American Society for Bone and Mineral Research. 22. 1072-9. 10.1359/jbmr.070405.
The following two tabs change content below.

Thordur Sturluson
Thor Sturluson has a BS in Biology, majoring in Botany, from the University of Maine and a masters degree in Zoology from the Open University in London. He's an experienced Biologist with a history of working in the environmental services industry. A trained scuba diver and researcher, Thor's has a keen interest in nature conservation and animal/plant protection. His work and botany passion has made The Herbal Resource what it is.

Latest posts by Thordur Sturluson (see all)