Botanical Name: Tropaeolum majus.
It should not be confused with watercress, whose Latin name is Nasturtium officinale.
Other Common Names: Common nasturtium, climbing nasturtium, garden nasturtium, Indian cres, trädgårdskrasse (Swedish), Kapuzinerkresse (German), capucine grande (French).
Habitat: Native to South America, especially in Peru and Bolivia. Today, it is cultivated worldwide as an ornamental plant.
Description: Nasturtium is an annual plant that belongs to the Tropaeolaceae family. It can reach around 20 cm in height and spreads by creeping stems that are crisp and juicy.
The leaves are more or less circular with distinct veins. The yellow, orange or red flowers are large and helmet-shaped. The plant prefers well-drained soil in the sun or semi-shade.
Plant Parts Used: The fresh or dried leaves, flowers, and the seed pods.
Therapeutic Uses, Benefits and Claims of Nasturtium
The main substances found in nasturtium are glucosinolates, mustard oil, flavonoids, carotenoids and vitamin C.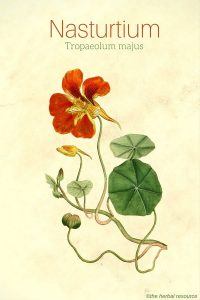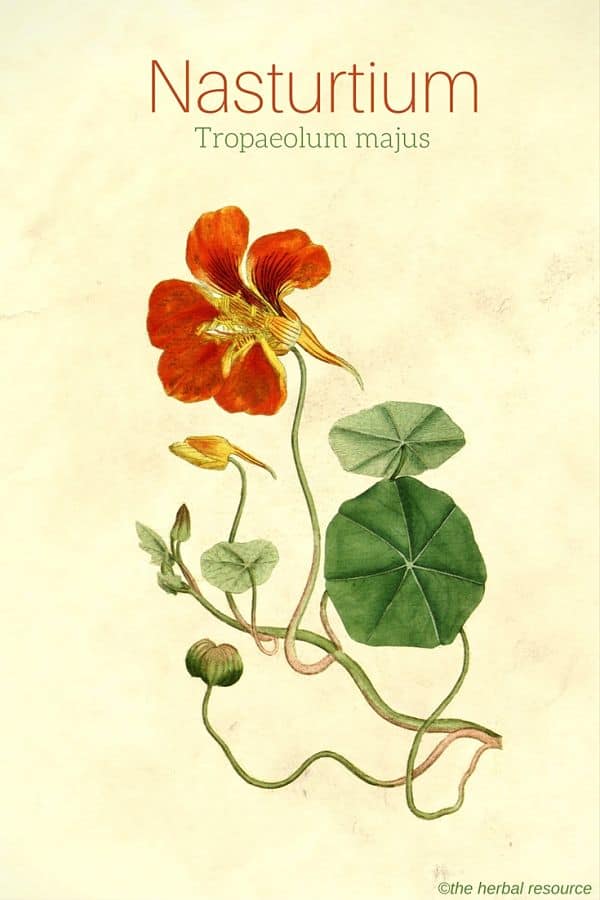 It was in the 1600s that the herb was first introduced from Peru to Europe, but it was used as a medicinal plant for a long time in South America. Nasturtium can act both as a disinfectant and a healing agent, and all parts of the plant seem to have strong antibiotic and antimicrobial properties.
The herb is used primarily as an herbal remedy for urinary tract infections and infections of the respiratory tract but is also indicated for external and internal bacterial infections and to treat minor scrapes and cuts.
The dried ripe buds have a strong laxative effect and unlike many conventional germicides, nasturtium will not damage the intestinal flora.
It is a good source of immunity-boosting vitamin C and may be used as a natural remedy for helping the body overcome and prevent the common cold and influenza.
Nasturtium has a reputation for promoting the formation of red blood cells, and it's been used in folk medicine as a remedy against scurvy.
The herb has been used as a remedy for hair loss and to stimulate hair growth.
When applied externally, it also works against various fungal infections, including yeast infection.
Additionally, it was used traditionally to treat muscular pain.
It is one of the more powerful antibacterial plants available.
It is most effective when it's used fresh and made into a compress for external use or into an infusion for internal infections.
Despite its value as a medicinal plant and positive results in clinical trials, the freshness factor may be the reason why nasturtium is not a more widely used herb.
Dosages and Administration
As the appropriate dose of nasturtium may depend on several factors such as the age, health and ailment, consult a trained herbalist with knowledge of the herb's uses in herbal medicine prior to use.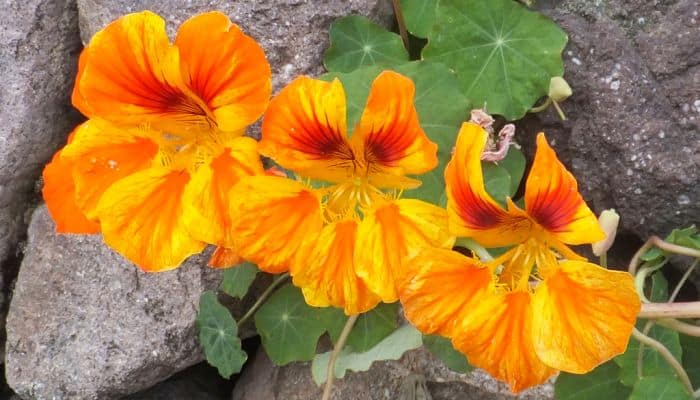 Possible Side Effects and Interactions of Nasturtium
Nasturtium contains mustard oil and when used topically can cause skin irritation.
Pregnant or breastfeeding women should not use this herb.
People with kidney diseases or ulcers of the stomach or intestinal tract should not use this herb in any form either.
Despite positive results in clinical trials, the conventional medical community does not recognize the benefits of the herb.
Always consult a trained herbalist, experienced alternative medicine practitioner or a healthcare provider before using herbs as medicine.
Supporting References
Bown, Deni: The Royal Horticultural Society New Encyclopedia of Herbs & Their Uses. London, England. Dorling Kindersley 2002.
van Wyk, Ben-Erik & Michael Wink: Medicinal Plants of the World. Portland, Oregon. Timber Press 2004.
Weiss, Rudolf Fritz & Volker Fintelmann: Herbal Medicine. 2nd Ed, revised and expanded. Stuttgart, Germany. Thieme 2000.
Huxley, A., ed.: New RHS Dictionary of Gardening. Macmillan 1992
Hoffmann, David: The Complete Illustrated Holistic Herbal: A Safe and Practical Guide to Making and Using Herbal Remedies. Element Books 1996.