We all know we have to conserve, maintain, and improve our bone health constantly to avoid painful situations like osteoporosis and fractures.
Bones are the structural framework your body is built upon. It can be safely said that your general health is a symbol of your bone or in other words, your bone health affects your general wellbeing.
When talking about improvements in bone health what comes to your mind at first calcium and along with a whole list of dairy products?
It's a general concept that dairy products are the only sources to obtain much-needed calcium. Whereas to your amazement, there are certain plant foods that have calcium content far higher than most dairy products.
Surprised? Keep reading there is more for you on this. Here we are discussing which plant foods can help you to obtain the essential nutrients for bone health.
It is worth mentioning that besides calcium there are many other important nutrients your body needs to build healthy bones.

Let's dive in to plant world and find out what is in there for stronger bones.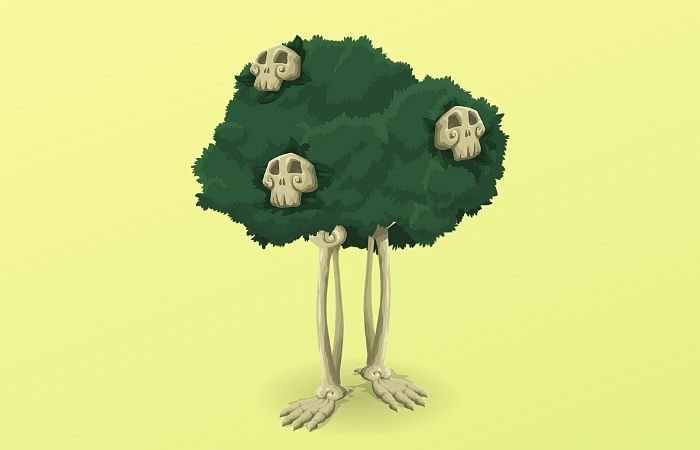 What are the Nutrients Essential for Strong Bones?
First and foremost is to know what are those essential nutrients you need to add to your diet to attain healthy bones. Here is the list of these nutrients:
Calcium
Vitamin K
Magnesium
Potassium
Vitamin C
Vitamin D
Let's take a look at each of these and find out why these are important and which plant foods can be used to obtain these.
Calcium
Calcium in combination with collagen makes up to 90% of your bone mass. It makes sense why you need a daily dose of calcium for strong and healthy bones.
Broccoli is one of the plant foods with the highest calcium content. It contains up to 186mg of calcium in one cup (1;2).
Other plant foods that are rich in calcium include:
Spinach
Mustard Greens
Argula
Turnip greens
Kale
Dandelion greens
Almonds

Calcium & Magnesium + Vitamin D3
Highly Absorbable with Boron – 10 Forms of Calcium + Phosphorus for Bone Strength
from Vitalite Now
The Herbal Resource may receive a small commission from sales of specific product (but at the same price to you).
Magnesium
It is a common belief that calcium is all you need for healthy bones. But do you know what your body needs to transport and absorb calcium? It is magnesium.
If you are deficient in magnesium even a daily dose of calcium could not keep you safe from fragile bones and the possibility of developing osteoporosis (3;4).
You can obtain magnesium from following;
Leafy greens such spinach
Figs and raspberries
Nuts and seeds
Legumes
Broccoli, peas, asparagus, artichokes and Brussel sprouts
Vitamin C
Vitamin C acts as a cofactor your body needs to make collagen. Collagen is an essential part of the bone structure, therefore, an adequate amount of vitamin C is essential for healthy bones
If you are running low at vitamin C the tendency of your body to generate new bone cells becomes low (5).
Fortunately, vitamin C can be obtained from many delicious fruits and vegetables such as;
Citrus fruits
Strawberries
Vitamin K
Do you know there is a small portion of your bone that is not made up of calcium and collagen? Yes, it is a small but significant part of bone made up of the protein known as vitamin K – (dependent y-carboxyglutamic acid).
Studies show that vitamin K deficiency can lead to weak bones and decreased the tendency to generate new bone cells (6).
Kale is a good plant source of vitamin K. In addtion swiss chard, lettuce, parsley, and spinach are also counted as fairly good sources of vitamin K.

Vitamin D3 2000 IU + Vitamin K2
Optimized Absorption in Best Form MK7 for Strong Bones & Healthy Heart
from Vitalite Now
The Herbal Resource may receive a small commission from sales of specific product (but at the same price to you).
Vitamin D
Vitamin D is regarded as essential for strong bones (studies do not seem to be in agreement when it comes to the role of vitamin D and bone health) but it is thought to helps the body absorb calcium from the diet (7;8).
Here is the list of plant foods that can help you get your fill of vitamin D;
Maitake mushroom – Not a plant but we will allow it to tag along.
Vitamin d fortified orange juice
Soy milk
Almond milk
What are the Benefits of These Plant Sources?
Reading all this may make you question why you should prefer plant foods when milk and dairy products are doing the job.
The truth is that besides the dairy industry's high held promises and claims these products are faced with chemical treatment and harsh pasteurization process.
Besides there is a number of people on planet Earth who cannot digest milk protein and end up bloated, nauseous and with gastric issues after use of milk and milk-based items.
People with lactose intolerance can easily get their portion of nutrients essential for bone health from the Plant Kingdom without any side effects.
Furthermore, plant foods do not have unhealthy fats so these do not contribute to the development of heart diseases and do not elevate your cholesterol levels as well.
Also, plant products do not contain animal hormones that are present in abundance in dairy products.
What about People on Vegan Diet?
People who rely solely on plant-based foods for their nutritional requirements are termed as vegetarians.
Doesn't it look like they are missing out on essential nutrients?
Its true plant diet cannot reverse or offer some additional protection for bones but there are things that can be done in this regard for positive results.
Look at these important points to set your focus on:
1. Intake of enough amount of protein.
2. Ensure an adequate amount of calcium.
3. Select a good source of vitamin D.
4. An appropriate amount of Vitamin B-12 is essential.
5. Limit the number of alcohol beverages.
6. Lift some weights.
7. Be sure to get enough plant-based protein.
Can Plant-Based Foods Help in Healing Too?
What if you unluckily fracture a bone and need some additional nutritional support to speed up the healing process?
Can you still rely on a plant-based diet if you suffer from fatigue or some other ailment?
In many cases, the answer is yes. By using superfoods given by nature you will probably benefit in far more ways than those documented.
It is always good to gain your nutrition from natural ecologically grown foods rather than processed items and supplements.
7 Ways You Can Promote Healing and Boost Your Health When on a Vegetarian Diet
1. Ensure Enough Iodine
Iodine is an essential element for good health. It promotes brain functioning, maintains energy levels and is essential for proper functioning of thyroid gland.
If you are running low on iodine you can experience laziness, fatigue and mood swings. Kale is a rich source for this nutrient.
Other greens you can add in your diet include:
Bok Choy
Spinach
Parsley
Green beans
2. Use Ginger
Ginger is commonly known as a cooking spice but it has many healing and medicinal properties as well.
It is now widely used to reduce nausea, combat vomiting after surgeries, and also in the treatment of arthritis.
3. Eat Mushrooms
Mushrooms are known to have many benefits. Studies show these can slow the progression of cancer and increase long term survival in tumor patients (9).
There are several types of mushrooms available you can choose from:
White button
Shiitake
Portabella
Cremini
4. Choose Healthy Fats
You may feel like cutting out on fats when striving for health. But let me tell you fats particularly good fats are essential for proper brain functioning.
If you cut out fats entirely you may fall prey to depression and other mental health issues.
Healthy sources of fats include:
Olive oil
Nuts such as pecans and almonds
5. Energize with Healthy Carbs Such as Beets
Carbohydrates are an essential source of energy.
Today's fast-paced life may turn you to processed carbs but try not to as natural and plant-based carbs have many other nutrients and benefits.
Beets are a great source of healthy carbs and make a good choice for a snack. Beets are also known for their anti-cancer properties and also shield you from heart diseases.
Beets are also a good source of :
6. Power of Probiotics
Probiotics are gut-friendly bacteria that promote gut health and also keep many diseases at bay.
Plant sources of probiotics include:
7. Add Swiss Chard to Your Diet
Swiss chard has many benefits. It has been shown to have antidepressant properties, fights stress, promotes bone health, and has anti-inflammatory properties as well.
Its sweet and salty taste can be used in a variety of ways. You can replace it in any dish as a substitute for spinach. It is a great option as a salad too.
In Conclusion
As you can see there is a wide range of plant food options available and many superfoods that can help to promote health and heal at the same time.
All you need is to add these wisely and learn portion control to avoid missing some and overdoing other nutrients.
And remeber that our bones are a very important part of the body and the care of the bones is necessary.
The following two tabs change content below.
Sehrish Sattar
Sehrish Sattar is a pharmacist by profession and has worked with several health care setups. She began her career as a health and lifestyle writer. She is adept in writing and editing informative articles for both consumer and scientific audiences, as well as patient education materials.
Latest posts by Sehrish Sattar (see all)