Approximately 20% of Americans suffer from hay fever (allergic rhinitis) or seasonal allergies.
The primary part of the body affected by this allergic reaction is the membrane that lines the nasal passages making them swell. This causes nasal discharge, sneezing, itching, and difficulty breathing.
The allergic reaction is brought upon by airborne materials; commonly pollen of grass and trees in the spring, and ragweed in summer and fall.
Prevention of hay fever is much like trying to outrun an oncoming train, however, there are small steps that can be taken to reduce the severity or ease the symptoms.
The basics include keeping the windows closed during the seasons of high pollen count, washing sheets more regularly, use wood floors opposed to carpet, wash pets regularly, ventilate bathrooms after showers, remove household plants containing molds, using an indoor dryer opposed to hanging clothes outside, staying indoors between 6 and 11 a.m., use eye drops regularly, and use air filters within the home to help keep the air clean.
It is a good idea to use herbal remedies and supplements for hay fever as a preventive tool before spring and summer arrive instead of treating the symptoms of hay fever as they arrive.
Before commence using medicinal herbs for hay fever, it is important to read up on each herb.
Any herbs or herbal supplements aimed as remedies for hay fever should be discussed prior to use with a health care provider.
Medicinal herbs can interact with each other or with conventional medication and as with many conventional medicines, some herbs can come with some serious side effects.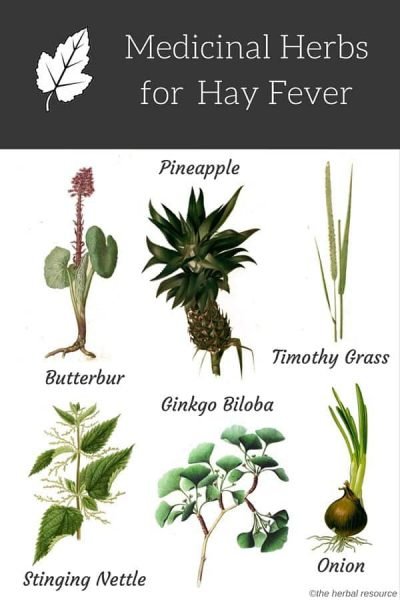 Medicinal Herbs for Hay Fever Treatment and Relief
Butterbur
Butterbur (Petasites hybridus) has been used for centuries as an herbal treatment for various health concerns but has only recently come to light as being used as an herbal remedy for hay fever (allergic rhinitis), due to its content of antihistamines.
Recent studies compared groups taking regular antihistamines and butterbur.
The effects were strikingly almost exact. The one difference was that the group using traditional antihistamines experienced drowsiness while the group using butterbur did not. (1)(2)
Ephedra (Ma huang)
Ephedra (Ma huang) (Ephedra sinica) is another natural herb that has been used for hay fever.
Constricting the blood vessels of the sinuses, this ephedrine, and pseudo-ephedrine containing herb forces fluids that cause the congestion back into the bloodstream; clearing the acute sinus stuffiness.
While this herb can be an effective herbal treatment for hay fever it should not be taken for more than a week and then only under the strict supervision of a professional health care provider, due to the effects ephedrine has on the central nervous system and other possible side effects. (3)
Golden Seal
Golden Seal (Hydrastis Canadensis) has been at times called "The King of the Mucous Membranes" as it improves the quality of the membrane itself as well as regulating the quantity of mucous allowed into the respiratory system.
It had been used as an herbal remedy for hay fever because it stimulates the blood circulation, helping in the supply of nutrients and reducing the action of the mast cells producing a histamine reaction. (4)
Evening Primrose
The oil of evening primrose (Oenothera biennis) is used for hay fever due to its effect on the prostaglandin balance in the body.
Dietary supplements of Oenothera biennis is overall one of the best one can take as it actually has a myriad of uses.
It provides essentials to the body in which 1 in 8 people do not normally receive. This oil has been tested to be more effective when combined with cod liver oil. (5)
Pineapple
Pineapple (Ananas comosus) contains the substance bromelain a natural enzyme found in the stems. Bromelain has been shown to reduce inflammation in the nasal passages and lessen the production of mucus. (6)
A study from 2012 done on mice showed that bromelain did have strong anti-inflammatory activity in the lungs. This indicates that the enzyme might be useful as a treatment for hay fever, asthma, and allergies. (7)
Ginkgo
Gingko biloba is one of the medicinal herbs for hay fever that has gained a lot of interest in recent years.
It contains quercetin, an antioxidant flavonoid found in many plants and foods,  which has anti-inflammatory properties and therefore might make it helpful as a relief for symptoms associated with hay fever. (8)
Ginkgo biloba also contains substances known as ginkgolides, which are believed to help as a treatment for lung ailments such as asthma and bronchitis. (9)
Ginkgolides reduce inflammation by eliminating free radicals which in turn allows for more oxygen to enter the lungs resulting in better breathing in people suffering from asthma, allergies and hay fever.
Guduchi
Guduchi (Tinospora cordifolia) is a common medicinal herb used in Ayurvedic medicine for the relief of allergies and a variety of other ailments.
Few scientific studies have confirmed the herb's potential to manage and treat common allergies (seasonal allergic rhinitis).
In one study subjects who were administered guduchi in tablet form reported that the herb reduced itching, sneezing, and nasal discharge.
In another study, 75 patients suffering from hay fever were given guduchi. All subjects experienced a significant improvement in typical symptoms associated with allergy. (10)(11)
Timothy Grass
Timothy grass (Phleum pratense) is an herb that has some extensive studies behind it. Few studies have shown that an extract from herb's pollen could be helpful in eliminating or reducing many of the symptoms in those suffering from allergies and hay fever.
Some researchers have theorized that if Timothy grass is given regularly to children over a period of few years, it could reduce their susceptibility to developing asthma but extensive clinical trials are needed to confirm this. (12)
Turmeric
Turmeric (Curcuma longa) is a popular spice used in Middle Eastern and Asian cuisine. The herb contains the substance curcumin, a powerful antioxidant with anti-inflammatory properties.
Curcumin is thought to be as effective as many steroidal and non-steroidal conventional medication. It has also been found to have anti-allergy properties and inhibit the release of histamine. (13)
Onion 
Eating onion (Allium cepa) is perhaps the safest and easiest way of relieving and preventing hay fever. Onions are loaded with the flavonoid quercetin, a strong antioxidant and with anti-inflammatory properties.
Research studies have shown that quercetin can stabilize cells that in turn halts the introduction of histamine that causes inflammation. (14)
Quercetin is also found in apples, kale, berries, cherries, and parsley.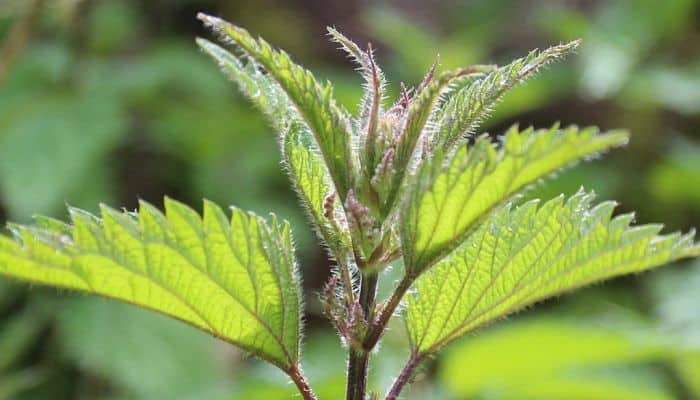 Stinging Nettle
Stinging nettle (Urtica dioica), although commonly known to cause skin irritation when touched, is considered by many herbalists as one of the best medicinal herbs for hay fever and allergies. The herb is rich in vitamin K, quercetin, and carotene.
In one clinical trial, more than 50 percent of human subjects suffering from allergies given freeze-dried extracts from the nettle leaves confirmed that they found relief from their symptoms.
Slightly less than 50% of the subjects reported that stinging nettle worked the same, or better than conventional antihistamine drugs. (15)
Stinging nettle leaves can be used in tea, capsule or tincture form. Studies have indicated that daily use of 300 mg of stinging nettle extract could provide relief from allergy symptoms in most people but many herbal practitioners recommend a stronger dose or up to 500 mg daily.
Tylophora
Tylophora (Tylophora indica) has been used by doctors in India for a long time now to treat people who suffer from allergies including hay fever.
The compounds contained within this plant are reported to interfere with the mast cells, the key components in the inflammation process which causes most all hay fever symptoms. (16)
Doctors recommend 200 to 400 mg dried herb daily, or 1 to 2 ml per day, each for only one to two weeks.
Other Natural Herbs That Have Been Used for Hay Fever (Allergic Rhinitis) Treatment and Relief
Supporting References
Schapowal A, Petasites Study Group. Butterbur Ze339 for the Treatment of Intermittent Allergic Rhinitis

: 

Dose-Dependent Efficacy in a Prospective, Randomized, Double-blind, Placebo-Controlled Study. Arch Otolaryngol Head Neck Surg. 2004;130(12):1381–1386. doi:10.1001/archotol.130.12.1381
Treating intermittent allergic rhinitis: a prospective, randomized, placebo and antihistamine-controlled study of Butterbur extract Ze 339. Phytother Res. 2005 Aug 22

Lee MR. The history of ephedra (ma-huang). Journal of the Royal College of Physicians of Edinburgh. 2011;41(1):78-84.

Lisa Meserole and Eric Yarnell. Botanical Prevention and Treatment for Hay Fever. Alternative and Complementary Therapies. Published in Volume: 2 Issue 2: February 3, 2009.

European Union herbal monograph on Oenothera biennis L. or Oenothera lamarckiana L., oleum. 5 June 2018. European Medicines Agency.

Secor, E. R., Jr, Szczepanek, S. M., Castater, C. A., Adami, A. J., Matson, A. P., Rafti, E. T., … Silbart, L. K. (2013). Bromelain Inhibits Allergic Sensitization and Murine Asthma via Modulation of Dendritic Cells. Evidence-based complementary and alternative medicine : eCAM, 2013, 702196. doi:10.1155/2013/702196

Secor, Eric & J Shah, Sonali & A Guernsey, Linda & M Schramm, Craig & S Thrall, Roger. (2011). Bromelain Limits Airway Inflammation in an Ovalbumin-induced Murine Model of Established Asthma. Alternative therapies in health and medicine. 18. 9-17.

Mlcek, Jiri & Jurikova, Tunde & Škrovánková, Soňa & Sochor, Jiri. (2016). Quercetin and Its Anti-Allergic Immune Response. Molecules. 21. 623. 10.3390/molecules21050623.

Mahmoud, Fadia & Haines, David & Al-Awadhi, R & Arifhodzic, Nermina & Abul, Adnan & Azeamouzi, C & Al-Sharah, S & Tosaki, A. (2012). In vitro suppression of lymphocyte activation in patients with seasonal allergic rhinitis and pollen-related asthma by citirizene or azelastine in combination with ginkgolide B or astaxanthin. Acta physiologica Hungarica. 99. 173-84. 10.1556/APhysiol.99.2012.2.11.

Mahmoud, Fadia & Haines, David & Al-Awadhi, R & Arifhodzic, Nermina & Abul, Adnan & Azeamouzi, C & Al-Sharah, S & Tosaki, A. (2012). In vitro suppression of lymphocyte activation in patients with seasonal allergic rhinitis and pollen-related asthma by citirizene or azelastine in combination with ginkgolide B or astaxanthin. Acta physiologica Hungarica. 99. 173-84. 10.1556/APhysiol.99.2012.2.11.

Guo, Ruoling et al. Herbal medicines for the treatment of allergic rhinitis: a systematic review. Annals of Allergy, Asthma & Immunology, Volume 99, Issue 6, 483 – 495.

Rondón, Carmen & Blanca-López, Natalia & Campo, Paloma & Mayorga, Cristobalina & Jurado-Escobar, Raquel & J Torres, Maria & Canto, Gabriela & Blanca, Miguel. (2017). Specific Immunotherapy in LAR: a randomized, double-blind placebo controlled trial with Phleum pratense subcutaneous allergen immunotherapy. Allergy. 73. 10.1111/all.13350.

Prasad S, Aggarwal BB. Turmeric, the Golden Spice: From Traditional Medicine to Modern Medicine. In: Benzie IFF, Wachtel-Galor S, editors. Herbal Medicine: Biomolecular and Clinical Aspects. 2nd edition. Boca Raton (FL): CRC Press/Taylor & Francis; 2011. Chapter 13.

Sayin, I., Cingi, C., Oghan, F., Baykal, B., & Ulusoy, S. (2013). Complementary therapies in allergic rhinitis. ISRN allergy, 2013, 938751. doi:10.1155/2013/938751.
Bakhshaee, M., Mohammad Pour, A. H., Esmaeili, M., Jabbari Azad, F., Alipour Talesh, G., Salehi, M., & Noorollahian Mohajer, M. (2017). Efficacy of Supportive Therapy of Allergic Rhinitis by Stinging Nettle (Urtica dioica) root extract: a Randomized, Double-Blind, Placebo- Controlled, Clinical Trial. Iranian journal of pharmaceutical research : IJPR, 16(Suppl), 112–118.

D. N. Shivpuri, M.D., M. P. S. Menon, M.D., and Dharam Prakash, M.D. A crossover double-blind study on




Tylophora indica in the treatment of asthma and allergic rhinitis. Journal of the Association of Physicians of India 1968, 16 (1): 9-15

 

 
The following two tabs change content below.

Dr. Surya Bhagwati (BAMS, DHA, DHHCM, and DHBTC) is the lead Ayurvedic physician at Dr. Vaidya's. She is a qualified Ayurvedic practitioner who brings a wealth of experience spanning over 25 years in the science. Prior to Dr. Vaidya's, she has worked at the prestigious Saifee Hospital in Mumbai where she still continues her association in a consulting capacity. Her expertise lies in the prevention of chronic ailments.

Latest posts by Dr. Surya Bhagwati (see all)