Arnica Montana, commonly known as arnica, is a flowering plant with yellow flowers.
It ideally grows in mountain areas, certain places in North America and Europe being the ideal regions.
It is also known by the name of wolf's bane or leopard's bane since the flower is thought to be beautiful and powerful
This plant is known for its ability to provide pain relief, injuries, bruising, and enhancing the healing process.
The medicinal properties of the plant were documented in the 1500s for the first time.
Going Back in History
Arnica plants don't grow much in height. They can grow the maximum height of 2 feet tall, and during the flowering season, they are covered with golden-yellow flowers.
While you would find many products, like arnica tablets and creams today, the way Arnica Montana was used in the past was different. People would generally chew the flowers to get relief from lethargy and fatigue.
When used for its pain-relieving properties, people would compress the flowers and wrap it around the site of the injury.
However, arnica is only used for pain, inflammation, and injuries without broken skin. One of the common ways of using arnica was also as tea. People would infuse the essence or liquid of the arnica flower in hot water to consume it in the form of tea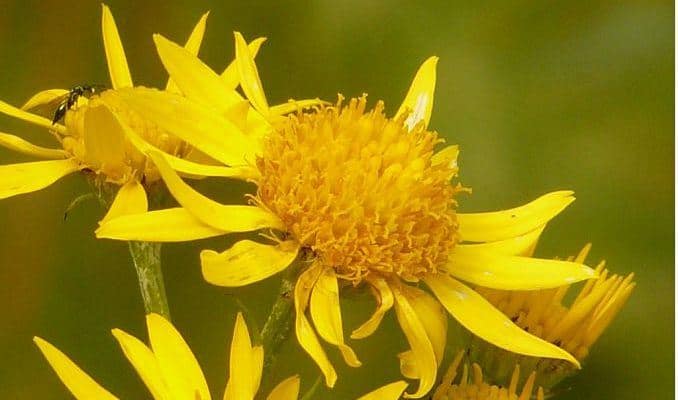 Modern Day Uses
The ways mentioned above were the traditional methods that were used before medical research was possible. These methods are no longer in use and not recommended anymore
The plant does contain many toxic agents, and when used in the raw form, one could experience severe side effects. This is why arnica is used in the form of topicals and homeopathic tablets these days. These forms of the plant are known to be the safest forms, with no adverse side effects.
What Arnica is Used For
Today, Arnica Montana tablets, ointments, gels, and creams are used for some specific reasons. Here's a list of the common uses of arnica.
Swelling
Arnica has anti-inflammatory properties that make it a fantastic remedy for swelling. Whether it is kids or adults, swelling from an injury or any other condition can be reduced with the help of arnica cream. (1)
Arnica can also be useful in improving the healing process of fractures, as well as post-surgery healing by reducing swelling.
Bruises
If you fall and, as a result, blood vessels under the skin break then arnica can help with healing bruises and tenderness and discoloration.
Arnica can drive more white blood cells to the site of the injury, which help in repairing and bruise, as well as cleaning up the mess as a result of the ruptured blood vessels. (2)
Pain Relief
Arnica is best known for its natural pain-relieving properties. It is useful for conditions that cause pain, even diseases like arthritis that are characterized by chronic pain can be managed with the help of arnica ointment. (3)
The biggest problem one faces when using over-the-counter or allopathic remedies for pain is the various side effects and tolerance that build over time. However, that's not a problem when we talk about arnica.
Other Benefits of Arnica
While the benefits mentioned above have been researched and documented, scientists are still studying the plant to conclude how useful it can be in other ways.
Arnica may help ease childbirth, scars, and burns, relieve headache, acne, insect bites, and jet lag. Lesser known applications may even include relief from mental burnout or stress. (4)
The good news is that many experimenters are invested in the study of this plant. Arnica is an herbal medicine which increases its worth. Upon having enough evidence about these properties of arnica, we may be able to use it in more ways than now.
Over the years, more countries have been growing and harvesting arnica for the obvious herbal benefits that it offers.
Homeopathic medicines that contain arnica extract are becoming increasingly popular. Since they let people administer arnica is small doses, there aren't any side effects that have been reported by people.
Today, by integrating the valuable knowledge from the past, and the results and proofs from various studies and experiments prove that Arnica Montana is a plant worth being harvested in large scale.
In the coming years, we can expect more people to make the conscious choice of using arnica over many allopathic medicines.
The following two tabs change content below.

Thordur Sturluson
Thor Sturluson has a BS in Biology, majoring in Botany, from the University of Maine and a masters degree in Zoology from the Open University in London. He's an experienced Biologist with a history of working in the environmental services industry. A trained scuba diver and researcher, Thor's has a keen interest in nature conservation and animal/plant protection. His work and botany passion has made The Herbal Resource what it is.

Latest posts by Thordur Sturluson (see all)