Bearberry purportedly gets its name from the fact that the berries seem to be a favorite food of bears.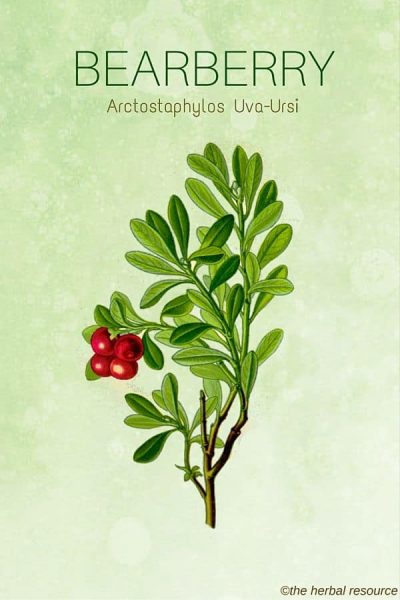 Uva ursi acts as a natural diuretic. It has been used historically to treat cystitis, urolithiasis, and other urinary tract infections. (1)
It is a traditional bladder treatment used in European folk medicine. In northern Europe and Eurasia, bearberry tea has been a traditional herbal treatment for hundreds of years. (2)
Some Native American tribes used an infusion of the stems of bearberry and blueberry as a way to prevent miscarriage, and aid a woman's recovery after childbirth. (3)
The leaves of uva ursi contain a very powerful and recognized antibacterial chemical compound known as hydroquinones. This is a scientifically proven compound, but its use is questioned by the US Food and Drug Administration, and the plant is not sanctioned for medical use in the United States. (4)
A tea made from a decoction of dried bearberry leaves is a traditional treatment for urinary tract infections in many parts of the world.
Ingesting bearberry tea works best if the patient is on a vegetable-based diet. It has been clinically shown to be more effective when the urine is alkaline in nature. (2)
The uva ursi leaves may be smoked to relieve a headache. This form of use is illegal or carefully regulated in many regions, due to the narcotic effect of the plant.
A partially dehydrated decoction made from bearberry may be applied as a salve to canker sores, sore gums, burns, and minor cuts. (3)
The folk remedies of many cultures suggest bearberry as an effective treatment for backache, rheumatism, and arthritis. (5)
It is used as a disinfectant in some regions, perhaps due to its known attributes as a urinary antiseptic.
The following two tabs change content below.

Herbal Resource
The Herbal Resource
was created out of a passion for all natural health solutions and to inform on what nature can provide to heal. Staffed by a group of functional medicine advocates, scientists and natural health experts, we use science to support how natural can help bring health to people.

Latest posts by Herbal Resource (see all)