Traditional ayurvedic medicine has used the gummy resin from the boswellia tree to treat arthritis, diarrhea, Crohn's disease, dysentery, lung disease and worms.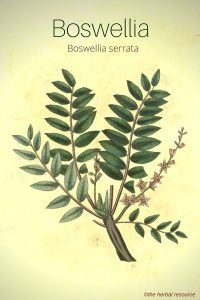 In herbal medicine, boswellia is best known for its use in treating arthritis. The active ingredient, boswellic acid, in the resin is a powerful anti-inflammatory.
It has also been said to have pain relieving properties.
These two properties could make it an effective remedy for rheumatoid arthritis and osteoarthritis.
Boswellia serrata extract has also shown promise in lowering cholesterol and triglyceride levels in the blood and liver. This makes it an effective agent in lowering overall cholesterol levels.
The extract also has a mild sedative effect, as well. This effect is a welcome side effect and aids in the pain relief effect on arthritic joints.
Asthma has been treated successfully using boswellia serrata extract. It helps to relax the bronchial passageways.
It has also been used to treat Crohn's disease and ulcerative colitis effectively, as well.
Some research shows promise in the immunity boosting properties of boswellia extract use.
A study made by Colorado State University indicates that boswellia could be helpful for inflammatory bowel disease (IBD) by reducing inflammation in the bowels.
[Read more about Boswellia Serrata…]
The following two tabs change content below.

Herbal Resource
The Herbal Resource
was created out of a passion for all natural health solutions and to inform on what nature can provide to heal. Staffed by a group of functional medicine advocates, scientists and natural health experts, we use science to support how natural can help bring health to people.

Latest posts by Herbal Resource (see all)