The leaves of Damiana contain substances like essential oil, resins, tannins, starch, arbutin, barterin and a bitter substance known as damianin. (1)
Damiana has been shown to help boost energy and reduce the effects of exhaustion.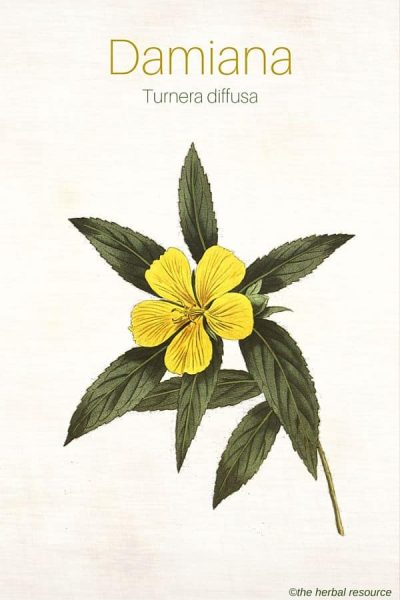 This herb is traditionally been used as an aphrodisiac. Modern research supports this use as well. It is shown to increase sperm count in males and the strength of eggs in females, help with erectile dysfunction and anorgasmia.
It has also been shown to help increase blood flow and stimulation in sexual organs. (2)
Damiana has anti depressant properties and helps to boost the overall mood and bring about a general feeling of well-being. (3)
Additionally, it has been used as an herbal remedy for anxiety. (4)
This medicinal herb is thought to have hormonal balancing properties. It is used to help with the hormonal imbalances common with menopause in women. (5)
It has been used as a central nervous system depressant to help with CNS disorders and modify and control the nervous response.
The following two tabs change content below.

Herbal Resource
The Herbal Resource
was created out of a passion for all natural health solutions and to inform on what nature can provide to heal. Staffed by a group of functional medicine advocates, scientists and natural health experts, we use science to support how natural can help bring health to people.

Latest posts by Herbal Resource (see all)