Gotu kola is known as a longevity herb and often used as a general health tonic.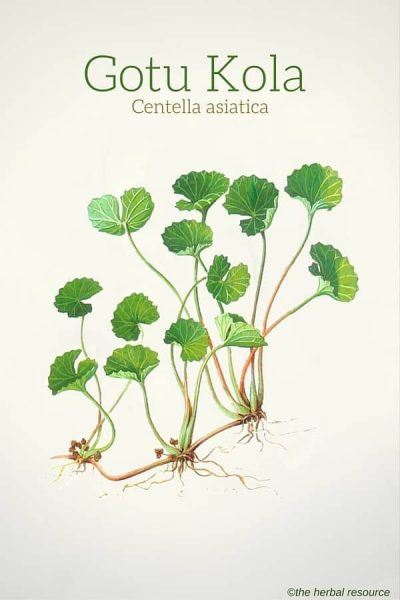 Historically, the herb has been used to treat many disorders; including syphilis, hepatitis, epilepsy, stomach ulcers, nervous conditions, diarrhea, and fever.
This herb can be used externally for wounds, burns and skin lesions. (1)
Gotu kola has been shown to support the blood vessels and help lower blood pressure with regular use. This helps reduce the frequency and severity of chronic venous insufficiency and the development of varicose veins. (2)
There is a support to show that this plant may help with nervous conditions, especially anxiety and insomnia. (3)
Sufferers of scleroderma may find relief from the use of this herb. (4)
Ankylosing spondylitis (arthritis of the spine) and rheumatoid arthritis may also respond well to this herb. (5)
This herb helps rejuvenate the brain and nervous system and helps improve brain health.
This herb has shown anti-aging properties. (6) It has also been used as an herbal remedy for ADHD (ADD). (7)
The following two tabs change content below.

Herbal Resource
The Herbal Resource
was created out of a passion for all natural health solutions and to inform on what nature can provide to heal. Staffed by a group of functional medicine advocates, scientists and natural health experts, we use science to support how natural can help bring health to people.

Latest posts by Herbal Resource (see all)