The seeds are regarded to have antispasmodic, sedative, digestive, antifungal, expectorant, galactagogue, diuretic, carminative, estrogenic, aphrodisiac, bactericidal and fungicidal properties.
When taken internally the seeds have been used to relieve indigestion, colic, gas, halitosis, stomach bloating, abdominal cramps and to remove nausea. 1
The seeds are viewed to have diuretic (increase urine output), and diaphoretic (increased sweating) properties and they have also been used for their antiseptic effects.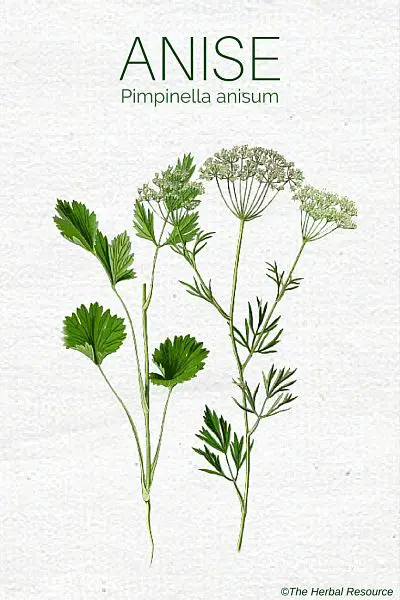 Anise oil works as an expectorant, which means it may help in the coughing up of mucus in conditions like asthma, bronchitis, the common cold, and whooping cough. It is, therefore, being used as an ingredient in cough syrups, and lozenges. 2
The essential oil in the seeds contains the substance anethole, which in chemical structure is similar to dopamine, adrenaline, norepinephrine, and ephedrine, all of which have bronchodilatory (dilates the bronchi and bronchioles) properties. 3
The seeds also have mild estrogenic effects most likely due to the presence of diantheole and photoantheole in the oil.
Which explains why the seeds have been used traditionally to promote lactation in nursing mothers, increase libido and to relieve symptoms of premenstrual syndrome. 4
Ointments, lotions, and soaps containing anise oil can help as a natural remedy for oily skin and treat impurities like mild acne.
Since the oil is poisonous to many insects, it has been added to lotions and ointments and used as a natural treatment for scabies and lice infestations. 5
Active Substance and Constituents
The ripe anise seeds contain about 2.5% of the fragrant essential oil (anise oil) that is responsible for most of the beneficial effect associated with them.
The oil consists mostly of anethole and its derivatives, like diantheole and photoantheole. Methyl chavicol and para-methoxyphenylacetone, flavonoids like quercetin, lipids, sterols, and coumarins are also present.
The following two tabs change content below.

Herbal Resource
The Herbal Resource
was created out of a passion for all natural health solutions and to inform on what nature can provide to heal. Staffed by a group of functional medicine advocates, scientists and natural health experts, we use science to support how natural can help bring health to people.

Latest posts by Herbal Resource (see all)