Arnica is applied to the skin for pain and swelling associated with bruises, aches, and sprains. It is also used on the skin to treat insect bites, arthritis, muscle and cartilage pain, chapped lips, and acne.
Arnica montana is widely held to improve blood circulation, allowing oxygen to get to the cell faster.
Used topically, Arnica Montana is touted as a great way to speed the healing of bruises and sprains, and it is used as an alternative treatment in sports-related injuries of this type.
Arnica Montana acts as an anti-inflammatory and has even been indicated as a way to speed the absorption of internal bleeding back into the body.
Preparations made from the plant are often thought of as a preferential treatment for leg ulcers in diabetic patients.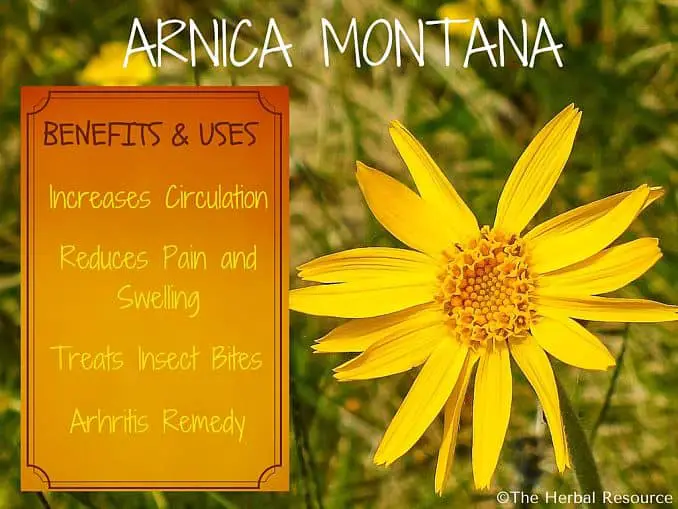 Arnica Montana is thought to be an effective herbal treatment for bacterial infections, including salmonella and listeria. Comprehensive testing has not been performed to prove or disprove this.
It is possible that the herb can speed up the healing process after a surgical procedure, and as an anesthetic to reduce pain during surgery, including dental procedures. [study]
In folk medicine, the herb has been used for a migraine and tension headaches. It has recognized sedative effects that relieve pain, and relax muscles.
Diluted arnica packs may be applied to an abscess, reducing swelling, and speeding up the absorption of toxins and allowing tissue to heal quickly.
Applied topically to the unbroken skin, arnica patches relieve pain, similar to commercial pain patches.
In rheumatic joints, a topical application reduces swelling and pain, offering dual relief for those who suffer from painful joints or osteoarthritis. [study]
[Read more about Arnica Montana…]
The following two tabs change content below.

Herbal Resource
The Herbal Resource
was created out of a passion for all natural health solutions and to inform on what nature can provide to heal. Staffed by a group of functional medicine advocates, scientists and natural health experts, we use science to support how natural can help bring health to people.

Latest posts by Herbal Resource (see all)