Horny goat weed has been used in traditional Chinese medicine for thousands of years to promote male potency and as an herbal aphrodisiac.
The legend says that it got its name when a Chinese shepherd noticed his male goats affectionate reaction to the female goats after digesting the weed.
In traditional herbal medicine horny goat weed is touted to have a diuretic, tonic, hypertensive, antibacterial, antirheumatic, antitussive and hypoglycemic effect.
It increases the nitric oxide levels, which relax smooth muscle thus allowing more blood flow which explains its uses as an herbal remedy for erectile dysfunctions. (1)
It has been used to increase seminal emissions and premature ejaculation as well. (2)
Horny goat weed is probably one of the most popular herbs used for the treatment of low male libido. (3)
It is not just used as an herbal sexual stimulant for men but also used for the same purpose for women.
It has sometimes been used traditionally as an herbal remedy for bronchitis and asthma but these uses have not been proven by scientific methods.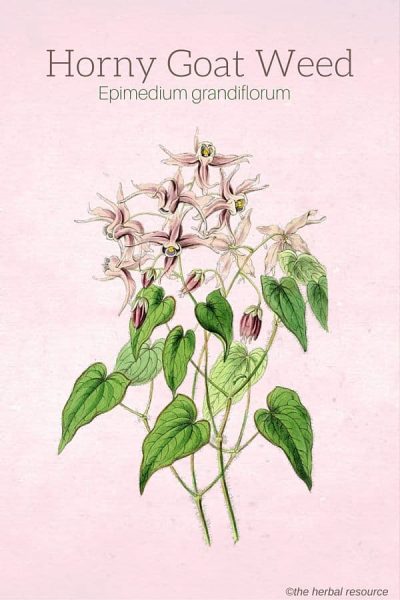 Herbalists have also used it to naturally lower blood sugar levels, to treat lumbago, arthritis, numbness, and weakness of the limbs. These applications of the herb are solely based on traditional uses.
Horny goat weed is thought to be able to increase levels of epinephrine, norepinephrine, dopamine, and dopamine and could be effective as an herbal remedy for anxiety and stress. (1)
Dopamine may be responsible for the reproductive effects as it can cause a release of testosterone which could explain its popularity as an herbal libido enhancer.
In some human and animal studies the ability of horny goat weed to return cortisol levels back to normal has now been linked to its potential for bringing about a reduction in bone deterioration and an increase in muscle mass, as well as a loss of body fat and improvement in the immune-system but more studies are needed to validate these claims. (4)
There has been some indication that horny goat weed could be useful as a herbal remedy to treat menopause and related symptoms. (5)
It should be noted, however, that research regarding the herb's efficiency related to menopausal symptoms is in its infancy and more and thorough studies are needed to fully confirm this.
[Read more about Horny Goat Weed…]
The following two tabs change content below.

Herbal Resource
The Herbal Resource
was created out of a passion for all natural health solutions and to inform on what nature can provide to heal. Staffed by a group of functional medicine advocates, scientists and natural health experts, we use science to support how natural can help bring health to people.

Latest posts by Herbal Resource (see all)