Although the leaves, bark, and flowers have been used in traditional herbal medicine, it is the big, shiny brown nut of the horse chestnut tree which is of greatest medicinal interest.
From them, an extract is obtained which is used to strengthen the walls of the blood vessels so that blood flow from the veins in the legs back to the heart improves.
The dried conkers contain 3-6% of a mixture of triterpene saponins, known by the common name aescin (escin).
It is aescin which is considered the main active ingredient responsible for the strengthening effect on the veins and capillaries.
Standardized extracts made from the conkers usually have much higher concentrations of aescin (usually 16-20%) than the conkers do in their natural state. (2)
It is estimated that 10-15% of adult men and 20-25% of adult women suffer from Chronic Venous Insufficiency or CVI,s which often results in varicose veins and swollen ankles. (3)
The conventional treatment is usually elastic stockings and diuretic medication. Using extracts from horse chestnut conkers in addition to those conventional treatments is believed to significantly improve these ailments associated with Chronic Venous Insufficiency (CVI). (4)
This reduces the feeling of having heavy legs, nocturnal leg cramps, itching, and swelling.
In many countries in Europe, the use of standardized horse chestnut extract has been the main treatment for chronic venous insufficiency, varicose veins, and fragile capillaries, and it is sometimes also used to reduce swelling after surgery and injuries. (5)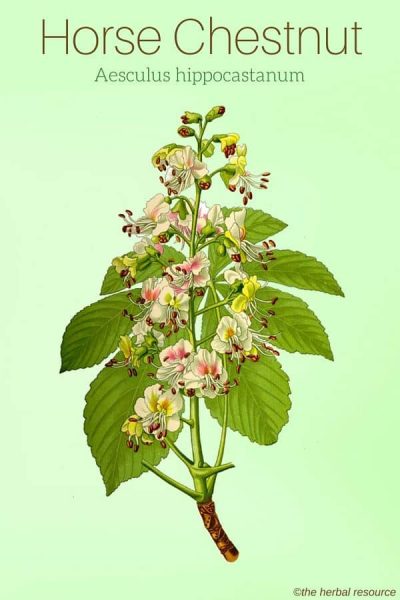 Although hemorrhoids is a condition in which horse chestnuts extract can be used, it is purely based on traditional usage and few clinical studies seem to confirm the effectiveness of the extract in that regard. (6)
Aescin seems therefore primarily to have a strengthening effect on the walls of veins and capillaries.
This promotes the transport of the blood back to the heart and attenuates edema (water retention) that often affects the ankles and calves.
This edema reducing effect is due to the aescin's ability to assist in the reduction of fluid from the surrounding tissue and return it back to the capillaries. (7)
Horse chestnut can help remove waste products from the connective tissue making the lymphatic system more efficient.
The herb does not dissolve the actual waste products that are deposited in the connective tissue, but there are other medicinal herbs that are believed to help in that regard and are often used in conjunction with horse chestnut. Examples of such herbs are birch (Betula sp.), parsley (Petroselinum crispum) and dandelion (Taraxacum officinale). (8)
Aescin has also anti-inflammatory action and can reduce swelling due to minor sprains, cuts, and wounds when applied topically.
When herbalists prescribe horse chestnut, they often combine it with other herbs for the cardiovascular system, such as hawthorn (Crataegus monogyna), ginkgo (Ginkgo biloba), grape seed extract, all of which help to strengthen the collagen in the blood vessels.
Clinical research has shown that aescin may also work in a protective way on fragile capillary veins by lowering the activity of three enzymes (beta-N-acetylglucosaminidase, beta-glucuronidase, and arylsulfatase) that break down proteoglycans, molecules that provide strength to the vein walls.
Researchers have reported that the blood levels of these three destructive enzymes are between 60 and 120% higher in people with varicose veins than those who do not suffer from this disease.
Additionally, aescin lessens the action of the destructive enzymes elastase and hyaluronidase, which have found in high levels in patients with chronic venous insufficiency. (9)
[Read more about Horse Chestnut…]
The following two tabs change content below.

Herbal Resource
The Herbal Resource
was created out of a passion for all natural health solutions and to inform on what nature can provide to heal. Staffed by a group of functional medicine advocates, scientists and natural health experts, we use science to support how natural can help bring health to people.

Latest posts by Herbal Resource (see all)