Tormentil has been known for its medicinal properties for centuries. In European herbal books from the early medieval period, the rhizome is referred to as Rhizoma tormentillae (tormentum = pain).
In the past, the plant was attributed to almost magical abilities as a remedy for all kinds of conditions causing pain.
In the late Middle Ages, the herb was highly recommended in the fight against the plague. This use was probably also linked to the doctrine of signatures that states that herbs resembling different parts of the body can be used to treat ailments afflicting these body parts.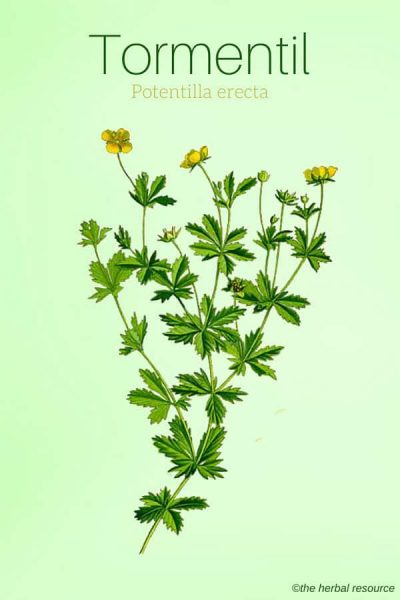 The cross form of the four petals of the flower (most plants in the genus Potentilla have five) was regarded as a sign of the strong force of the plant, and the red color of the rhizome was thought to be an indicator of its effectiveness as a remedy for all ailments associated with the blood. (2)
An Effective Astringent
Today, tormentil is mostly used in herbal medicine for its astringent properties owing to its high content of tannins which is very rare for an herbaceous plant.
The herb is used internally for both acute and chronic diarrhea, dysentery, gastroenteritis (inflammation of the stomach and intestines), enterocolitis (inflammation of both the small intestine and the colon) and to halt minor internal bleeding.
The herb is regarded to be particularly useful for alternating constipation and diarrhea (shifting pattern of constipation and diarrhea) due to the antiseptic properties of the phlobaphenes (tormentil red).
In addition, the herb has been used as an herbal remedy for the inflammatory bowel diseases (IBD) ulcerative colitis and also for gastritis and peptic ulcers (open sores that develop on the inside lining of the stomach).
Externally, tormentil is used in the form of a gargle as a treatment for inflammation of the mucous membranes in the mouth and throat.
It is thought to be useful in treating conditions, such as pharyngitis (swelling in the back of the throat between the tonsils and the voice box), laryngitis (inflammation of the voice box or vocal cords), mouth ulcers, tonsillitis, and bleeding gums.
As a relief for hemorrhoids, the tormentil root can be added to bathwater or sitz baths or used in the form of an ointment applied directly on the affected area.
The herb has also been used traditionally, in the form of an ointment, poultice or compresses, as a natural treatment for wound, cuts, burns, eczema, and rashes.
In folk medicine, a weak decoction was prepared with the rhizome for treating conjunctivitis.
The following two tabs change content below.

Herbal Resource
The Herbal Resource
was created out of a passion for all natural health solutions and to inform on what nature can provide to heal. Staffed by a group of functional medicine advocates, scientists and natural health experts, we use science to support how natural can help bring health to people.

Latest posts by Herbal Resource (see all)